Farming has its elements of convenience and inconvenience. I love the convenience we have now with living right on the property that we will be farming. It is convenient to grow our own food. The inconvenience comes with weather, the timing of planting and harvesting. For the purpose of this belated Health & Garden Tuesday, I will be covering the inconvenience of planting garlic.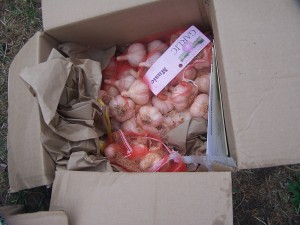 The inconvenience comes in the form of waiting for the first frost and getting the garlic in the ground at the right time. How do I know what the right time is? My timing in most things is not the greatest. In the case of garlic, which is usually planted in the fall for a spring harvest, it is a mixed bag. My timing for ordering our garlic was actually very good. I had fun picking out a few varieties of garlic and making my purchase, but we are just getting to tilling, planting and mulching our 7 or 8 lbs of garlic. I fear if my timing is off it will ruin the quality and quantity of garlic we harvest next year. My inexperience makes me second guess myself no matter how many times I read over the planting recommendations. I am hoping we can complete this little project this week….but at the rate we finish things….hmmm….but it has to get done soon.
Nevertheless, I am excited! I am still a little shell shocked that we are actually farming our "own" land. It still doesn't seem real. It has been three and a half months since we moved here and the farming aspect is not being lived out in full capacity. After all, we moved at the end of the growing season here in Illinois. At least the growing season for outside. There are many farmers who have high tunnels which allows them to extend their growing season….but that is a whole other topic!
Here's to hoping the weather stays in the 50's so we can get our garlic into the ground!
Share and Enjoy