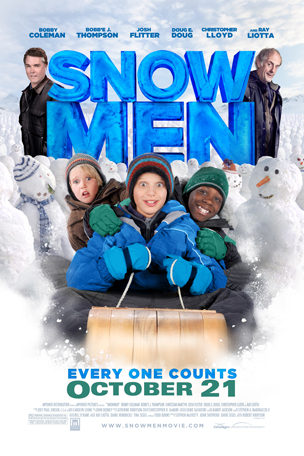 Snowmen is a all new heart-felt yet humors family-friendly movie about three young boys who want to make a difference and be remembered.
Our family loved this movie. We don't know how the producers could make us laugh so hard at the same time we where crying. This movie was wonderful. All of our children loved it. And despite some rude humor, and mild language this movie was really good! It taught some great lessons about friendship, God, and making a difference.
Go see Snowmen in theaters! You and your kids will love it! You can learn more about Snowmen by visiting www.Snowmenmovie.com
Snowmen was created by the producers of notable films including The Passion of The Christ, The Ultimate Gift, and Braveheart.
The film stars Bobby Coleman (Last Song), Ray Liotta (Wild Hogs), Bobb'e J. Thompson (Cloudy with a Chance of Meatballs), Josh Flitter (Ace Ventura Jr.) and Christopher Lloyd (Back to the Future).

Faith and Family Reviews received a free screening of following product in exchange for writing a review. While we consider it a privilege to receive free products to review, our reviews are our honest opinion and thoughts of the product.
Share and Enjoy