We don't own any Apple products, except our daughter's ipod, but we would love to have a couple of their computers. As most of you may have heard, Apple's co-founder, Steve Jobs, has died after battling with cancer.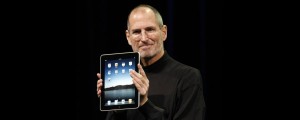 In an article I read a writer compared Jobs to other business icons such as Rockafeller, Ford and Walmart and said this of Jobs, "Under Jobs, Apple simply created a bunch of really cool products that people decided they needed to have." (Source: Yahoo Finance)
Will anyone be able to fill his shoes and continue to create "really cool products" or will they simply copycat? That remains to be seen, doesn't it? Guess we need to seriously consider getting one of the cool products before they are obsolete, eh?
On a more serious note, Jobs was only 56 and left behind his wife and family. Our sincere thoughts and prayers are with them today.
Share and Enjoy