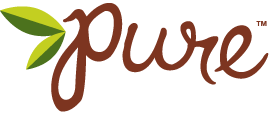 Faith and Family Reviews received the following product in exchange for writing a review. While we consider it a privilege to receive free products to review, our reviews are our honest opinion and thoughts of the product.
"Pure Bars are made with simple, whole ingredients and are gluten-free, vegan, kosher, and entirely delicious."
"Pure's Mission:  Pure is dedicated to helping everyone live a pure, healthy life. We are passionate about creating delicious, innovative products made with simple, wholesome ingredients.  We share our knowledge and ideas to inspire people to live a purer, healthier lifestyle, and give back to the community in a meaningful way."
There are 2 kinds of bars: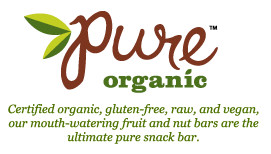 "Pure Organic - Certified organic, gluten-free, raw, and vegan, our mouth-watering fruit-and-nut bars are the ultimate pure snack bar. Pure Bars provide completely clean and balanced nutrition in an enticing and entirely delicious bar. Made with only simple, real ingredients, Pure Bar will nurture your body, mind, and spirit."
The Pure Organic Bar flavors are Chocolate Brownie, Wild Blueberry, Cherry Cashew, Apple Cinnamon, and Cranberry Orange
 "Pure Naturals – Pure's dedication to delicious, simple, clean nutrition continues with our innovative new line of all-natural, vegan and gluten-free fruit and nut bars. Pure Naturals come in an array of succulent flavors and are packed with 5-7 grams of protein and 5 grams of fiber. Dive in to a thrilling new combination of nutrition and taste"
The Pure Natural Flavors include Chocolate Almond, Peanut Raisin Crunch, and Superfruit Crunchy.
You can visit Pure Bar on their website at www.thepurebar.com.  Pure Bars are available online or search for a store near you. 
My Review:
We received 1 bar of most of the flavors, with the exception of Superfruit Crunchy and Chocolate Almond.  They were really good, I'm always looking for on-the-go snacks that are healthy.  I like that they don't have any unneeded sugars and are healthy for my whole family.  Our favorite was Apple Cinnamon and our least favorite was Cranberry Orange. The Cranberry Orange was a little too Orangy for us.  We enjoyed all of them and plan on purchasing them in the future! 
Share and Enjoy