Faith and Family Reviews received the following product in exchange for writing a review. While we consider it a privilege to receive free products to review, our reviews are our honest opinion and thoughts of the product.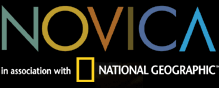 Novica's Mission:
"We want to give artists and artisans around the world a global platform to express their true artistic talents and to spur their creativity. And, we want to provide you with access to unique, hard-to-find items at great values that only the Internet infrastructure can allow.
At the deepest essence of our philosophy, we want to create a bridge between you and the many talented artisans across the globe.
We want you to know about who you're buying from. We want you to feel that attachment to the product and to the hands that created it.
In the spirit of the Internet, let us bring you together.
NOVICA. The World is Your Market."
Novia offers a wide range of items from all over the world, that include Home Decor, Jewelry & Apparel, Paintings, and other beautiful gifts.  Here are links to a few on my favorites!
Check out these beautiful scarves. 

http://accessories.novica.com/scarves/wool/
http://accessories.novica.com/scarves/silk
The jewerly is just as beautiful!  How about a charm bracelet?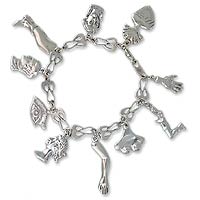 http://jewelry.novica.com/bracelets/charm/sterling-silver/
 Or a Cross Necklace, they are always in style.

http://jewelry.novica.com/necklaces/cross-shaped/sterling-silver/
My Review:
I received the Ceramic Salsa Bowl, "Mexican Spice", from Mexico.  The artist is Javier Servin. 

It measures 3.9′ H x 6.7″ W x 4.7″ D.  It came with a small tags that says…
"Mexican Spice – Orange Blossoms add a spicy contrast to the turquoise and cobalt blue composition of this salsa bowl.  in Javier Servin's design, the hand painted motifs create raise textures over the bowl's cool ceramic surface."
It's a beautiful bowl and I can't wait to use it! 
I also received a Leather Centerpiece, "Triangular Essence" from Peru.  The artist is Johnny Jimenez.

The leather bowl measurements are 2.6″H x 7.9″W x 7.9″ D.  The tag that came with this leather bowls says..
"Triangular Essence – Johnny Jimenez captures the artistic essence of geometry in the design of this handsome centerpiece.  He tools it of quality leather in a triangular shape featuring shiny iron studs at the center."
Again, another beautiful piece.  My husband has confiscated it for himself to drop his keys and wallet in. 
If you enjoy art and Mother Nature, you'll love Novica.  Please visit them at www.novica.com , on Facebook  http://www.facebook.com/novica , or Twitter  http://twitter.com/novica
Share and Enjoy