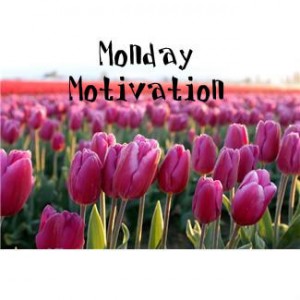 Stress? What stress? Think we all probably need this week's Monday Motivation from Erin…..what say you?
How to Deal with Stress Positively
By Erin Brown Conroy, M.A.
OK, so which one of us parents have not dealt with stress of some kind in the last 24 hours? If you answered "Me!" then either your child is vacationing with grandma or you're taking a cold medication that's fuzzing out your memory.
Stress is a part of our everyday lives. Whether it's a tired toddler whining all morning, an unexpected phone call that puts us in the driver's seat for the car pool, or a teen informing us that they "need" 75 dollars for a new pair of shoes, events push against us moment by moment, causing our mental equilibrium to totter into stressful thoughts and feelings.
Throughout the year, but especially during the holidays, our schedules are overflowing, our children are emotionally high-strung, and our "to do" list is longer than line at the checkout on Christmas Eve. So what can we do to avoid – or at least deal positively with
– inevitable stress?
Viewing Stress as "Normal"
I wish I had a magic wand to totally wipe stress off the board of my life and yours. But the truth of the matter is this: Stress is "normal." Unplanned change and unexpected surprises are as much a part of living as breathing. Our wishing our lives to be perfectly
stress-free sets us up for disappointment because at least some level of stress is part of everyday life. What counts most is how we deal with stress. How we approach our child's whining, our extra carpool excursion, and our teen's request for cash is dependent
upon the perspectives we hold within our minds.
How Do We Approach Stress?
When your child comes to you with more marker on his hands than on the holiday card he's creating, what do you think and say? Is it, "What a mess! How are we going to clean this all up?" Or is it, "Let's look at the beautiful card you made! Wow, you worked really hard on this! Let's go wash our hands and then put your card in its envelope to send out tomorrow." When your daughter, for the umpteenth time, interrupts you while cleaning the house for guests, do you think "I wish she'd leave me alone so that I could get this
done!" Or is it, "She needs my attention…What can I do to include her so that she feels better?" Each stressful situation can either be lit on fire or diffused by our internal thoughts. If our perspective is me-centered or focused on tasks before people, our internal
thoughts often wallow in frustration and anger, fueling stress.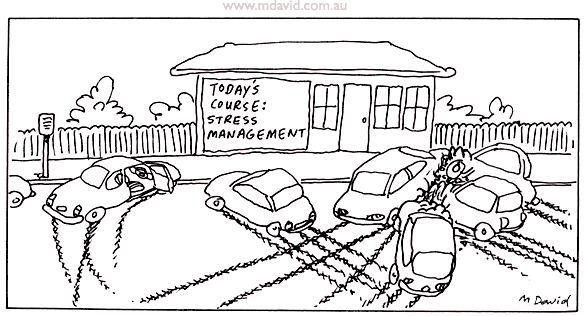 Copyright © Mark David. All rights reserved
Our thoughts are the key to approaching stress in a healthy way. In any stressful situation, our minds must grab and hold onto misguided thoughts that lead to negative emotions – before they run away with our values. Ask yourself, "What matters most 'in the big picture'?" In the light of eternity, what's most important – clean hands or my child's selfesteem? What will happen to my daughter internally if I become angry with her or brush her off while cleaning? What do I value most – a close relationship with my daughter or a
clean house? We must learn the skill of responding from healthy, long-term-perspective core beliefs, not from raw moment-centered emotions. And that takes practice.
Schedules
So, as a parent, am I doomed to a life of confronting boatloads of stress? Normal stress, yes. Boatloads, no. We fill our boats ourselves, don't we? We try to squeeze way too much into our days. We don't leave margins in our schedules, placing events back-toback, setting ourselves up for unnecessary stress. Our minds and bodies can only take so much!
Less is More
Quality cannot exist when our lives are constantly "pressed." When outside circumstances – either scheduled in or beyond our control – overwhelm us, something has to give; we need to change our lives in some way. I was sorely reminded of that truth when we moved to a new home in October. Trying to maintain a "regular" schedule, the extra stress pushed me to my limits – until I made some changes. Even some "good" activities had to go. Many times we must choose between what's "good" and "best." And best may mean less.
Summing it Up
What are your internal perspectives and attitudes about stress? A healthy perspective doesn't just happen. Take time to put spiritual and mental "positives" into your heart and mind; then you have a resource to dip into for making it through stressful times with
internal integrity. Take active steps to defeat the stressful, overburdening schedulemonster eating up your family. Choosing a quiet evening together over a "good" activity may be just what you need to diffuse stress. Your family's health is worth it.
About Author
Erin Brown Conroy, MA, is a writer specializing in books on relationship connections, curriculum, and web marketing. She is a freelance writer/consultant, the DL Professor of writing courses for Patrick Henry College, and a Master Teacher for the PHC Prep Academy Online. Erin is also the mom of 13 children by birth, marriage, and adoption and has been homeschooling for 27 years. She lives in Ohio with her husband, five children still at home, and three amazingly-smart (and cuddly) Australian Labradoodles. You can read more of Erin's articles on parenting at www.erinbrownconroy.com.
Used with Permission.
Share and Enjoy