What kinds of treats does your family enjoy? Pretzels are a nice snack to have on occasion. I actually prefer the breaded pretzels over the ones in the chip aisle. Our children love this pretzel roll that I pick up at our food co-op, whereas they are not my favorites. Last week we had the chance to review some yummy pretzels from Kim and Scott's Gourmet Pretzels. The difference between Kim and Scott's Gourmet Pretzels and others is the fact they are stuffed.
Our Sample Kit included six 2-packs of Stuffed Pretzels: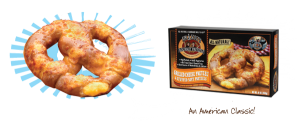 This stuffed pretzel was simply yummy! It tasted so delicious and cheesy.
Can we just say YUM? Our family loves pizza and this pretzel was a hit in our home! It tasted almost exactly like pizza. The sauce was very good with just the right spices. And the pretzel itself…well, it was very good.
Apple Cinnamon was also was very good. Are you noticing a trend here?

It would make a very good breakfast treat. The apples where nice and soft and the sauce was sweet, but not overly sweet. And everyone in our family loved it!
Chocolate lovers will love this pretzel, as it was one of our favorites out of all the ones that we tried! It tasted SO good. The pretzel was SO moist and chewy. And who could resist??? It's chocolate, right???? Plus, the chocolate frosting was a added bonus. All of us loved this pretzel!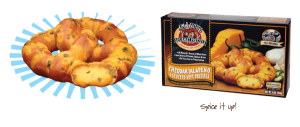 Only our two eldest daughters and I really liked the jalapeño pretzels. The others thought that they where too hot and spicy. They were tasty and had a nice kick to them. The cheddar cheese really accented the jalapeño. This one was not my personal favorite but I'd eat it in a pinch.
We heated our pretzels up in the oven for 15-25 minutes. Our overall experience with these stuffed pretzels is one word – Yum! Our mouths still watering when we see pictures/think of these pretzels!

All in all we LOVE Kim and Scott's gourmet pretzels and want to order some more of these yummy treats soon! Now that I have tried a stuffed pretzel, they are truly the ultimate pretzel of all time. Other pretzels dim in comparison to them.
Be sure to tcheck out heir products on their website: http://www.kimandscotts.com
About Kim and Scott's Gourmet Pretzels-
Since 1995, Kim and Scott Holstein, co-founders of Kim & Scott's Gourmet Pretzels, have grown their business from the kitchen in Kim's studio apartment to a national presence selling millions of pretzels each week via grocery store chains like Albertsons, Target, Walmart and Whole Foods. In addition, their pretzels can be found at Barnes & Noble, and via regular appearances on QVC, where they sold more than 150,000 pretzels in just 12 minutes when they debuted on the network.
Each one of our delicious pretzels is twisted by hand and made from scratch. Kim & Scott's Gourmet Pretzels offer an assortment of amazing pretzels, using ALL-NATURAL and PREMIUM ingredients, like freshly shredded cheeses, hearty spices, unbleached flour and whole grains.
Connect with Kim & Scott's on Facebook, Twitter, their blog, and Youtube!
Faith and Family Reviews received the following product in exchange for writing a review. While we consider it a privilege to receive free products to review, our reviews are our honest opinion and thoughts of the product.
Share and Enjoy