Faith and Family Reviews received the following product in exchange for writing a review. While we consider it a privilege to receive free products to review, our reviews are our honest opinion and thoughts of the product.
"Bestselling author Marianne Richmond, continuing in the vein of her other books such as If I Could Keep You Little, creates vibrant, eye-catching art and beautiful verses in The Night Night Book (Sourcebooks: ISBN 978-1-9340-8290-4).  This tender, evocative picture book brings the entire family together as the perfect story before bed."
"Sure to become a new bedtime classic, this book takes readers on a tour of the house as everyone settles in.  Whimsical artwork and comforting scenes show kids it's time to say goodnight.  Filled with text and illustrations that exemplify Marianne's real insights into the human spirit, The Night Night Book is a must have bedtime accessory for any parent."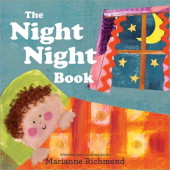 "Comfy bed,
all tucked in.
Cozy blanket,
toes to chin.
Night night sky.
Night night moon.
Dear tomorrow,
see you soon!"
"The ideal way to wrap up a day with your child, The Night Night Book is an adorable bedtime story the helps kids and parents bid farewell to the day, settle in for the night, and rest up for a new tomorrow."
About Marianne Richmond:
"Marianne Richmond started her own greeting card company (Marianne RStudios, Inc.) and has become a recognized creator of numerous books that celebrate milestone in life, memorable journeys, and relationships.  Since her first book in 1997, Gift of An Angel, write and artist Marianne Richmond has touched the lives of millions over the past decade through her line of greeting cards and gift books."
My Review:
My, daughter, husband and I sat down last night and read this book before bed.   This book was perfect for us because we say night night and our daughter understands what it means.  We all enjoyed it!  My daughter loves the illustrations as she pointed out various object and animals throughout the book.  It was a good learning tool also.  We asked her where the stars were on a page and she would point them out.  It was just long enough to keep her attention and start relaxing for the night.
I know I've said and I'll say it again, great baby shower gift!  I would recommend this book for you and your little ones as a great bonding tool!  It's available now!   We will be reading it again tonight and in the future for sure.
Share and Enjoy