Faith and Family Reviews received the following product in exchange for writing a review. While we consider it a privilege to receive free products to review, our reviews are our honest opinion and thoughts of the product.
About the Product and Leslie Blodgett (Creator)
"We're on a mission to change the way woman feel about their skin."
"In developing a skincare line, we championed our expertise in minerals and their ability to energize skin cells in an entirely different way than conventionally done before.  We  use only the finest quality ingredients in our products – the purest, most beneficial minerals from the earth – to give you the results you desire without the use of harsh chemicals, preservatives or irritants."
"It all began when Leslie Blodgett, Creator of bareMinerals, sought out a visionary in the field of organic agriculture with over four decades of experience.  This farmer had unearthed a complex blend of essentials through a unique process, these minerals yield a densely rich concentrate capable of extraordinary skin-renewing benefits."
"Clinical studies further validated the transformative efficacy of this soil: Faster cell renewal, reduced pore size, increased luminosity, softer, smoother, younger-looking skin.  Today, this rare soil is our proprietary, 100% pure RareMinerals ActiveSoil Complex and the miracle ingredient in our groundbreaking bareMinerals skincare line.  For the past decade, we've perfected the bareMinerals skincare formulas to combine the very best nature with science and modern technology so you can experience extraordinary results.  Help prevent, treat, and protect with bareMinerals skincare – the all-in-one solutions to your skin's needs."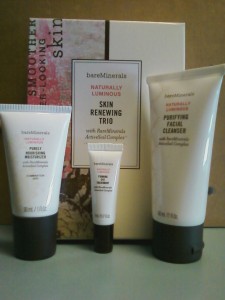 The product I received was the Skin Renewing Trio, 30 day Try Me Kit.  The kit included a purifying facial cleanser, firming eye treatment, and purely nourishig facial moisturizer (combination skin).
Purifying Facial Cleanser:  "This deep cleansing, hydrating formula removes makeup, dissolves impurities, and re-balances skin for a softer more luminous complexion."    The ingredients include pineapple, lychee & guava fruit enzymes, avacado oil, and pomegranate extract.
Firming Eye Treatment:  "Restore firmness and reduce puffiness around the eye area with this breakthrough treatment to reveal younger looking eyes.  The ingredients include vitamin E, soybean & sunflower seed oil and roman chamomile flower.
Purely Nourishig Moisturizer (combination skin):  "Hydrate skin with this lightweight, yet remarkably effective moisturizer for iproved firmness, elasticity, radiance and skin texture".  Ingrediants include honeysuckle, rooibos (red tea), green tea, chamomile, coffee, licorice, vitamins A, B5, and E.
My Review
Just a background on my face.  My chin, forehead and nose are more oily than my cheeks.
I'm always leary about trying new facial products.  I had a bad experience with a very abrasive product.  I'm old fashion when it comes to facial products.  I normally use the blue tub of paste that starts with an "N" to deep clean my face.
I've been activity using the bareMineral products instead of my own now for about a week.  I followed the directions on each bottle saying to cleanse or apply morning and at night. I found the bareMinerals purifying facial cleanser worked well on making my pore smaller and cleaned my face well.   The firming eye treatment also worked well, my skin felt a little tighter in that area.  And the purely nourishing moisturizer, I love it on my cheeks.  However, I did notice that since my nose, chin, and forehead are normally oily.  It seemed to make them look more oily than usual.  But, still a great product.
The product box showed the ingredients, however the product bottles did not.  Maybe it is because they are a trial sizes.
bareMineral products are available at QVC.  I went on the QVC site to see what other products bareMinerals have and my search returned 155 products!  And people seem to love all their products!  Lots of 4 & 5 star ratings!  To purchase these or any other bareMineral products you can call QVC at 1-888-345-5788 or visit www.qvc.com/bareescentuals
Share and Enjoy