This past year we have streamlined our homeschooling to mostly online programs (approx. 80%). It has helped tremendously since I have been working more. Recently we had the opportunity to try ABCmouse.com – Kids Ages 2-6 – Click here to get your First Month Free!
, a subscription based site that allows for up to four children's accounts on one parent account for about $7.95/month. I have to say that I am mostly impressed with ABCmouse.com. It is geared towards preschooler and kindergarten age children, but all my children under 10 have been very eager to help the younger children! It is not only educational, but fun too! A bonus since we want our children to love to learn.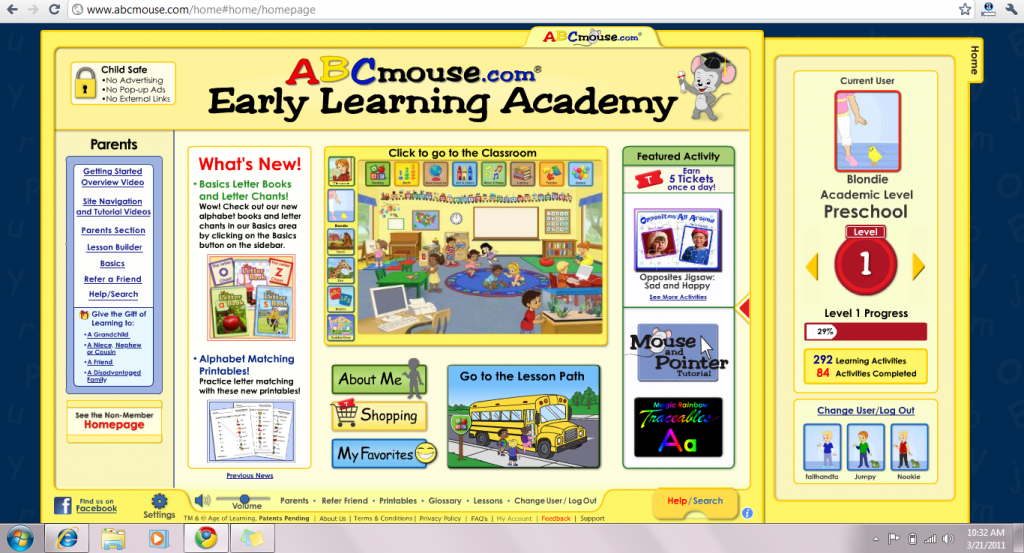 The pull for the children is the fact that they can earn tickets for the school work they do and then use those tickets to buy things for their virtual bedroom or other rooms. They have so much fun decorating and shopping! This reward system does not cost anything extra, it is just a part of the ABCmouse.com – Over 3,000 Educational Activities – First Month Free – Click here!
. Therefore, our younger children are learning about money too, even it it is with a materialistic slant.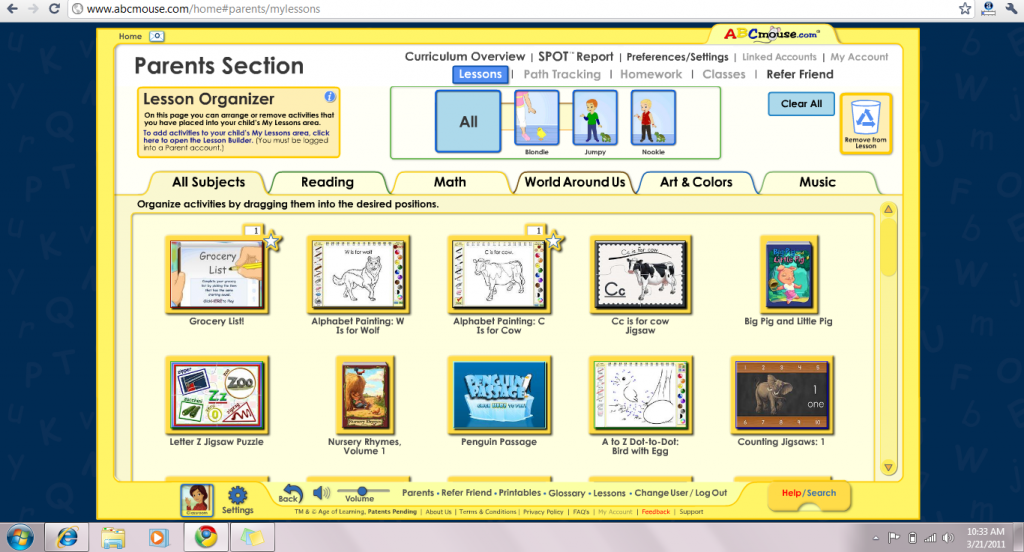 The school work includes learning sounds, letters, colors, numbers and counting. There are different subjects (reading, math, the world around us, art & colors, music, library, puzzles, games) to choose from or the parent can assign lessons for each day. There are six levels on ABCmouse.com: Levels 1-6, which a couple of my children are starting over. Very good for my now 4 year old son in preparation for teaching him to read. (Updated 3-18-12)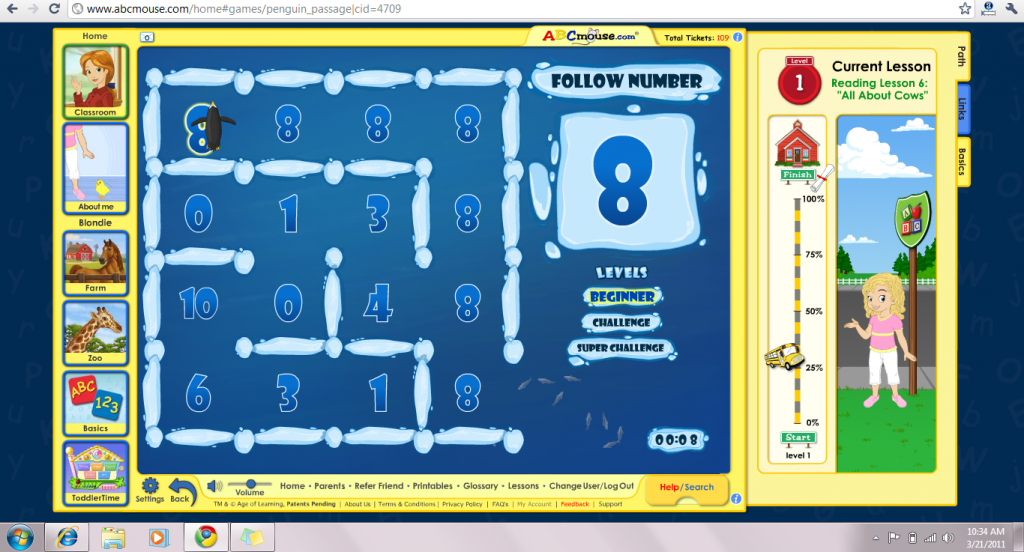 The music and voices on ABCmouse.com are very uplifting and encouraging. There is no condescension in the instructors at all. There are a lot of the old nursery rhymes that I remember my grandmother singing to me on there that bring back fond memories.
Samples of songs, like the "A" song are available on iTunes.com if you would like to preview the music.
The So-Called Negatives
The only so-called negatives in our minds are the requirement of the children's birth dates when you sign your child up, which my husband and I are very reluctant to provide and would rather not give at all. Then the children showed me a tiki in the fish tank, which they call a tiki god and I liken it to a totem pole. These are very minor things and do not affect the overall success of the learning my children have gained from ABCmouse.com. My four year old knows her abc's much better than she did before she started the program and she knows how to count better too. She has consistently earned high marks on her work. (Update 3-18-12: I really believe this program fully prepared my daughter, now 5, how to read. I started her on our reading program in January 2012 and she is half way done. She is doing extremely well and I credit ABCMouse for the success we have achieved so far!)
My three year old still needs help with using the computer mouse, but I think he is just so easy going that it is second nature to him to let his older siblings do it for him while he tells them the answer. My four year old and seven year old both knew how to use a computer mouse at age 2!
Overall Grade
Our children simply love it and are eager to do "school" with ABCmouse.com and as I said, I am very impressed with the quality of the program as well as the content. We give this educational site a two thumbs up for an overall grade!
For more information about ABCmouse.com – Full Online Preschool-Kindergarten- First Month Free – Click here!
Faith and Family Reviews received the following product in exchange for writing a review. While we consider it a privilege to receive free products to review, our reviews are our honest opinion and thoughts of the product.
Share and Enjoy