Congratulations to Karen! You won this giveaway! Winner chosen by Random.org. Thanks to all who entered and to Funky Monkey for sponsoring this great giveaway!!!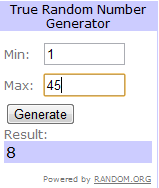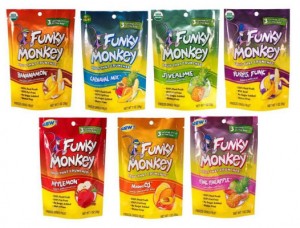 Funky Monkey Snacks are a line of freeze-dried fruit that are 100% natural, 100% real fruit, and 100% delicious – with 3 servings of fruit in each 1oz bag! Our "fruit that crunches" provides the ultimate snack, fusing the great taste, smell, and nutritional goodness of fresh fruit with the crunch and convenience of conventional snacks. You can read our review of Funky Monkey Snacks here.
Here are some additional Funky Monkey highlights:
• Funky Monkey Snacks have no added colors, flavors, sugars, or preservatives
• Their special, proprietary manufacturing process provides for a crunchier texture vs. conventional freeze-drying techniques
• They use full slices and pieces (not dices) of delicious, fresh fruit
• Funky Monkey is made in Brazil (not China!) using tropical fruits at the peak of freshness
• Their products are gluten-free, certified Kosher, and certified non-GMO
• They have 7 flavors- Applemon, Bananamon, MangoOJ, JiveAlime, Purple Funk, Pink Pineapple, and Carnavel Mix.
Enter to win a Funky Monkey Sampler Kit! (1 bag of each of their 7 flavors) Estimated value $10.
Mandatory Entry:Visit Funky Monkey Snacks.com and tell me what flavor you are most looking forward to trying.
Extra Entries (Please be sure and leave a comment and link for extra entries):
1 Entry:Follow Faith and Family Reviews On Twitter
1 Entry:Funky Monkey Snacks on Twitter.
1 Entry:Like/Friend Faith and Family Reviews on Facebook.
1 Entry: Like Funky Monkey Snacks on Facebook. And leave a comment saying- Faith and Family Reviews sent me.
2 Entries: Follow Faith and Family Reviews on Google Friend Connect (on the our right side bar).
2 Entries: Tweet about this giveaway, but only one tweet per day please. Include your tweet url with your comment. You may write your own tweet or use this one:
Giveaway: Enter to win a Funky Monkey Snacks! http://bit.ly/fadwUL @faithfamilyrevw! Please share! Thx!
5 Entries: Blog about this giveaway and link back this post and Funky Monkey Snacks.com.
1 Entry: for every comment you leave anywhere else on this blog, but please leave a link with your comment!
1 Entry: For every comment you leave on Funky Monkey's Blog, but please leave a link with your comment.
1 Entry: Sign up for Funky Monkey's newsletter.
Details:
This giveaway will run from March 4th, 2011 to March 17th, 2011 at midnight CST. The winner will be chosen through Random.org. Funky Monkey Snacks will send one winner their prize. Winner will be contacted via email on or before March 20th and will be asked for their contact and other pertinent info. Winners will have 48 hours to send me their e-mail at [ffr] [giveaways] [at] [gmail] [dot] [com] (without spaces and parenthesis). Please note: This giveaway is offered to USA only.
Thanks and have fun!
Share and Enjoy