Faith and Family Reviews received the following product in exchange for writing a review. While we consider it a privilege to receive free products to review, our reviews are our honest opinion and thoughts of the product.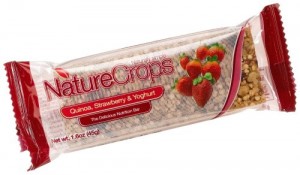 I was sent all three bars by NatureCrops . I was really excited to try these bars as they are all natural, contain no high-fructose corn syrup, and are made with organic quinoa. And are gluten free.
We got to try the Quinoa and Almond, Quinoa and Prunes, and Quinoa and Strawberry bars.
Nearly all of our family loves quinoa, which we usually eat in a soup. I know, I know, quinoa in soup is very different than in a bar. I am just saying that to share that we have actually tasted quinoa and trying these bars is not our first exposure to it. Nevertheless, we were disappointed in the Quinoa and Almond bar. I thought it tasted rather stale and I did not care very much for it. I found all three bars rather dry. For some reason (perhaps because of our soup), I expected them to be more moist than dry. The Quinoa and Prunes, and Quinoa and Strawberry bars tasted alot better then the Quinoa and Almond bar, but overall I did not like the taste of Nature Crops bars as well as other bars I have tried. I wish I could say I did, but sorry I cannot.

Everyone's taste buds are different though.
We divided these bars up into little pieces so that everyone could try them and the younger children did not seem to mind them at all and asked for more. While my oldest did not care for them. The next two say they liked the prune one best, then the strawberry and then the almond. Just proves what I said, everyone's taste buds are very different!
For more information please visit: http://www.naturecrops.com/
For additional info about Quinoa go here: quinoahistory
Share and Enjoy