Congratulations to Ellen B! You won this giveaway! Winner chosen by Random.org. Thanks to all who entered and to ProFlowers for sponsoring this great giveaway!!!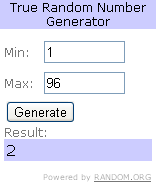 Faith and Family Reviews received the following product in exchange for writing a review. While we consider it a privilege to receive free products to review, our reviews are our honest opinion and thoughts of the product.
We were given a $50 promo code to try out ProFlowers.com. I was rather excited, until I went through the order process. An advanced warning: the code can only be entered once. Thankfully, I thought of this before I processed my order and asked the pr rep beforehand or else I would have used my code without using the full amount. I also don't think you can use the code on multiple items, so if you win our giveaway or decide to place an order be sure to clarify ordering multiple items with a gift code before placing your order.

Ordering
Ok, after deliberating on what to order for our family flowers or food? I chose a fruit/chocolate basket priced at $39.99 and clicked for a delivery of Saturday, February 5th for an additional $9.99, so that should only be $49.98 total, but when I clicked continue after inputing the code, it stated I owe $17.94……the other charges were added and did not show the additional charges, until AFTER I inputed my gift code and credit card information, which I did not like at all. I chose the delivery date of today because I wanted to post the review and giveaway at the same time instead of waiting like I have done in the past.
Standard Delivery $9.99
Shipping Rebate
Click Here
Saturday Delivery $9.99
Care & Handling $2.99
Tax: $4.88
TOTAL: $67.84
Promotion Code Amount Applied: $50.00
Amount Charged: $17.84

I did not like not knowing that I would pay an additional $9.99 on top of the regular delivery ($9.99), care & handling AND taxes. So I did not go back and change anything because this was after I inputed the promo code and I figured if I changed anything I would not be able to put in the code again. So I think I paid too much just so I could post sooner. I would have waited, but as I previously stated wanted all of you to have the week to enter the giveaway.
Oh and if you click the shipping rebate link, it takes you to a third party site in which you have to sign up for what they are offering (including credit card info, even for a trial) in order to receive the $15 rebate offer. This did not impress me either. I would have preferred the rebate offer to be through ProFlowers and off my next order or something.
To be honest, I had a better ordering experience through http://www.FloristExpress.net/(preferred partner of ProFlowers since I got redirected from there) ordering my mil's flowers and even got 20% off my order there, same with an order for another family who has been having a tough time and I wanted to send them some cheer. However, I knew what to expect the second (and third) time around so as not to incur the additional charges.
Here is a picture of the Rich Romance Basket from ProFlowers website: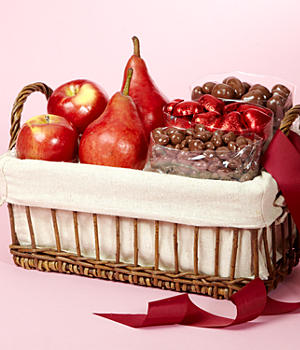 The following photos are of our opening the package to the actual product of the basket: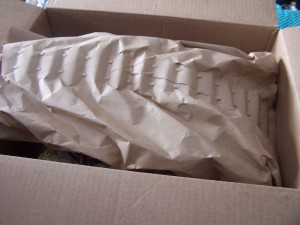 Compare these photo with the one from ProFlowers: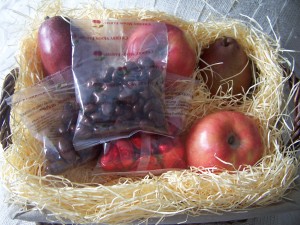 Note the difference in the size packages of the photo from ProFlowers and what we actually received: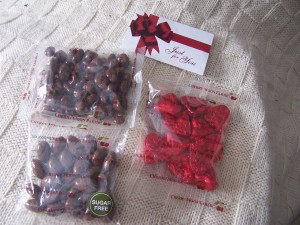 The Products
The products of the basket were pretty good, with the exception of the size differences in the candy packages (see photos above). The pears and apples tasted very good. However, for a gift basket we didn't think the apples should have had soft spots/bruises on them (could have been from shipping??), nor should they have had the white powdering stuff at the bottoms. But perhaps we are expecting too much, nevertheless, this was a pricey basket for what we got so I expected a lot from it.
The heart candy was milk chocolate that melted in our mouths. The chocolate covered cranberries were very tasty, however, the sugar-free chocolate covered almonds were a disappointment. Considering we did not need or ask for the sugar-free product, regular chocolate covered almonds would have been much better.
The Basket
The basket was a lined basket that you would find at JoAnn's or some other craft store. I think the price of the basket reflects mostly the packaging, not the product inside.
It was a treat to have this Valentine's Day gift delivered to our door to be shared as a family, but I do not think that the value of it was worth the money. I'll let you know next week how the two flower gifts go over with those to whom we sent irises and tulips to, that way you will receive feedback on the flowers as well.
Now here's an opportunity for you to shop at ProFlowers, so enter to win a coupon voucher with a $50 value to ProFlowers.com!
Mandatory Entry: Tell me what you would get from ProFlowers.com if you won.
Extra Entries (Please be sure and leave a comment and link for extra entries):
1 Entry:Follow Faith and Family Reviews On Twitter1 Entry:Follow ProFlowers on twitter.
1 Entry:Like/Friend Faith and Family Reviews on Facebook.
1 Entry:Like/Friend ProFlowers on Facebook.
2 Entries: Follow Faith and Family Reviews on Google Friend Connect (on the our right side bar).
2 Entries: Tweet about this giveaway, but only one tweet per day please. Include your tweet url with your comment. You may write your own tweet or use this one:
Giveaway: Enter to win a $50 ProFlowers gift card @faithfamilyrevw! http://faithandfamilyreviews.com/?p=6812 Please share! Thx!
5 Entries: Blog about this giveaway and link back this post.
1 Entry: for every comment you leave anywhere else on this blog, but please leave a link with your comment!
Details:
This giveaway will run from February 5th -February 10, 2011 at midnight CST. The winner will be chosen through Random.org. ProFlowers will send one winner a ProFlowers coupon code (of a $50 value) Winner will be contacted via email on or before February 10th and will be asked for their contact and other pertinent info. Winners will have 48 hours to send me their e-mail at [ffr] [giveaways] [at] [gmail] [dot] [com] (without spaces and parenthesis). Please note: This giveaway is offered to US only.
Thanks and have fun!
Share and Enjoy