Congratulations to Jessie C! You won our Wendy's giveaway! Thanks to all who entered and to Wendy's and the Motherhood for sponsoring this giveaway.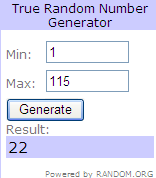 Faith and Family Reviews received four Wendy's gift cards valuing $7.00 each and a stipend in exchange for sharing about the Wendy's Bloggers and Friends Pick 2 Lunch Project hosted by TheMotherhood.com and Wendys.com. While we consider it a privilege to receive free products/gift cards and stipend, our reviews are our honest opinion and thoughts of the Pick 2 menu.
Yesterday we went to lunch at Wendy's for a bloggers event. This event was held with the purpose of trying Wendy's new Pick 2 menu, which consists of four half salads – The Spicy Chicken Salad, The Cobb Salad, The Apple Pecan Salad and the Baja Salad. Then you have the choice of adding one side for the price of $4.99, but this did not include the price of a drink unless you chose to get a salad and water. The side choices were: a Dansi bottle of water, a small chili, a baked potato, Jr. Cheeseburger, Chicken wrap, small frosty or a variety of soft drinks.
We invited Grandma to come with us since most of my friends were otherwise occupied or lived too far to attend. We tried their new Pick 2 menu. My oldest, Virtuous, along with Grandma tried the Spicy Chicken salad with a baked potato/chili. My second oldest, Peanut, and I tried the Apple Pecan Salad with chili as our side. On the way home we thought that we could have all chosen one of each of the salads, but oh well, we didn't. The Cobb looked good and I wasn't sure what the Baja was until we discussed it after lunch.
Grandma thought the meal was very filling, she couldn't even eat all the salad. However, she admits that she isn't a big salad eater. She adds that she thought the chicken was very tasty and enjoyed her tomatoes. She really enjoyed the baked potato with its extra seasonings as she doesn't usually dress up her baked potato with anything except butter.
Virtuous thought that the chicken was very spicy but it wasn't to bad. Her chili was delicous she said.
Peanut and I thoroughly enjoyed our chili and Apple Pecan Salad. It had dried cranberries, pecans, and two different kinds of apples (one red skinned and one green skinned) and included a pomengrated vinaigrette topped with blue cheese. The only thing I didn't like was the blue cheese as I am not a big fan of blue cheese. If I were to get it again I would ask them to leave off the blue cheese. The chili didn't seem to have as many kidney beans as we are use to adding to ours but it was still delicious. I just like the extra kidney beans for fiber and protein.
It was great to see some moms we met at the 77Kids Do Good Day and meet a couple others. We actually pretty much packed the Wendy's restaurant we met at and didn't have a whole lot of time to interact with everyone eating, ordering, finding seating, having to take care of kids or get back home to those children getting home from school.
We have a surprise midweek giveaway! Enter to win two Wendy's gift cards valuing $7.00 each and take your spouse, friend or child to lunch on Wendy's and TheMotherhood.com!
Check out the menu!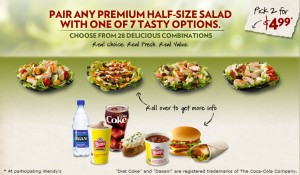 Mandatory entry: Tell me which Pick 2 lunch you and your lunch guest would choose.
Extra entries are:
2 entries: Follow Faith and Family Reviews on Twitter.
2 entries: Follow TheMotherhood on Twitter.
2 entries: Follow Wendy's on Twitter
2 entries: Tweet about this blog post including the hashtag #WendysPick2 using your own tweet or the one below:
Enter to win 2 Wendy's gift cards! @faithandfamilyrewv
2 entries: Like Faith and Family Reviews on Facebook.
2 entries: Like TheMotherhood on Facebook.
2 entries: Like Wendy's on Facebook.

2 entries: Follow Faith and Family Reviews on Google Friend.
1 entry for every comment left on other Faith and Family Reviews blog posts. We need some "Comment Love"

5 entries for blogging about this giveaway, linking to this post and TheMotherhood and Wendy's
Please note that this giveaway will only last one week, ending on October 27 at noon! One winner will be chosen via Random.org and contacted on or before October 30th. Winner will be given 48 hours to respond via email with their mailing address. Winner will then be mailed two $7.00 Wendy's gift cards via USPS first class ma
Share and Enjoy