Congratulations to Wendi P! You won our Dot Girl First Period Kit giveaway! Thanks to all who entered and to Dot Girl for sponsoring this great giveaway. Winner chosen by Random.org
Do you have a daughter who is starting her period or is at that pre-puberty stage and are you looking for a product to help her out with that? Well Dot Girl has the product for you! Here is a little bit about what Dot Girl wants to give one of you a Dot Girl First Period Kit! Cool huh?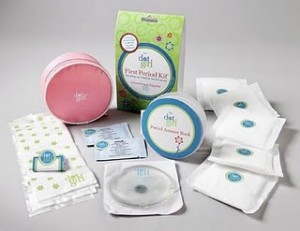 The kit includes:
A Dot Girl Period Answer Book- It answers twenty common questions about menstruation including:
How many days will I bleed?
When will I get my first period?
How do I track my period?
What about cramps?
What is a period anyway?
Written in an easy-to-read and positive tone, it covers the basics of menstruation in one compact booklet.
5 Feminine Pads
5 Disposal Bags for disposing of used pads.
1 Reusable Dot Girl Warm Pad, a gel heating pad for soothing cramps
2 Hand Wipes
So you wanna win?
The giveaway is open to both US and Canada and one winner will be chosen to receive one kit.
Mandatory Entry: Visit http://www.dotgirlproducts.com/ and tell me what you want besides the kit.
Extra Entries (Please be sure and leave a comment and link for extra entries):
1 Entry:Follow Faith and Family Reviews On Twitter (http://twitter.com/faithfamilyrevw)
1 Entry: Follow Dot Girl on Twitter .
1 Entry: Like Faith and Family Reviews on Facebook.
1 Entry:Like Dot Girl On Facebook
2 Entries: Follow Faith and Family Reviews on Google Friend Connect.
2 Entries: Tweet about this giveaway, but only one tweet per day please. Include your tweet url with your comment. You may write your own tweet or use this one:
Giveaway: Enter to win a Dot Girl First Period Kit @faithfamilyrevw! http://tinyurl.com/28zrqqu Please share! Thx!
5 Entries: Blog about this giveaway and link back to this post and to dotgirlproducts.com website.
1 Entry for every comment you leave anywhere else on this blog, but please leave a link with your comment!
Details:
This giveaway will run from Oct. 15th, 2010 until October 29th at midnight CST. The winners will be chosen through Random.org. Winner will be contacted via email on or before Nov. 15th and asked for their contact and other pertinent info. Winners will have 48 hours to send me their info at [ffr] [giveaways] [at] [gmail] [dot] [com] (without spaces and parenthesis). Please note: This giveaway is offered to US and Canada.
Thanks and have fun!
Share and Enjoy