If you are looking for a planet-friendly cleaning product, Contest Corner is offering a giveaway of 4 Conserve Cleaners and there will be three winners!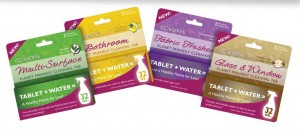 About Conserve Cleaners
Conserve cleaners are simple: we've left out what isn't necessary – water. Each box contains one concentrated cleaning tab. Simply drop the tab in to a spray bottle (by reusing an existing bottle or buying one), add water and start cleaning.

Each tab makes 32 oz. of cleaner and dissolves completely in 5-7 minutes.

By purchasing our planet-friendly cleaning tabs, it shows you are committed to your family living in a sustainable, healthy world.
Share and Enjoy