This review is done in cooperation with The Healthy Moms Review Team that I am a part of. I did receive free products, but that in no way affects my review.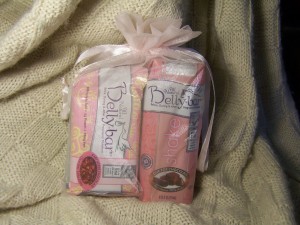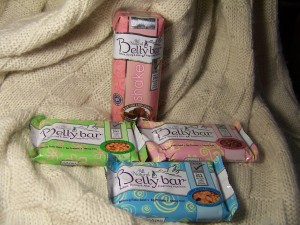 All I have to say is yummy, yummy, yummy! I tried the Mellow Oat first which is oat graham and yogurt covering half of the bar. I love yogurt and oatmeal. With my iron still low these Belly Bars have 18 mg iron, plus 800mg of Folic Acid and 8 g of Protein.
I also received a Due for Chocolate milkshake. So for all of us chocolate lovers that is a definite bonus! It was very good, made with real milk without any growth hormones.
The bars and shakes are fortified with all the supplemental nutrients required in a normal pregnancy. The more notable nutrients we expectant mamas need the Bellybar has: 800 mg Folic Acid, 8 g Protein and 18 mg of Iron – something I need mroe of! While Bellybar products are made with no GMOs or growth hormones, they are not certified organic, even though they are labeled "All Natural" because ingredients like brown rice syrup, cane juice etc. No high fructose corn syrup and the like.
I actually think it's ingenious for Nutrabella to cater to expectant mamas. I love bars like this, so even if they are not certified organic I plan to check to see if our local Walgreens carries them. I find bars high in protein give me an extra boost throughout the day.
For more information visit http://www.nutrabella.com/buy/index.html
Share and Enjoy