I received these products in exchange for some work that I did for someone.
Well, this is long overdue review, as I have had these bracelets for awhile now. I was suppose to write this up at about the same time as the recycled picture frame. Regardless, I am doing it now, right?
I like jewelry, but tend to like it in small portions and sizes. For instance, when I was in my teens or early twenties my childless aunt had all of my sisters and female cousins look at her jewelry to tell her what we wanted upon her death (she's still alive today), I chose my grandmother's wedding band. My aunt was shocked and asked me if I wanted her huge diamond cluster instead. I told her no that my grandmother's ring had more meaning to me and the huge diamond just wasn't me.
So this brings me to my review, the triangular bracelet is bulkier than I would normally wear, but surprisingly it doesn't feel as bulky as it looks. But it still takes some getting use to when I am use to small chain or bead bracelets. However, it has a comfortable fit and is appealing to the eye. It is made out of  solid wood with elastic.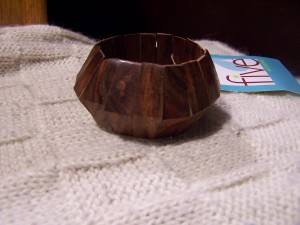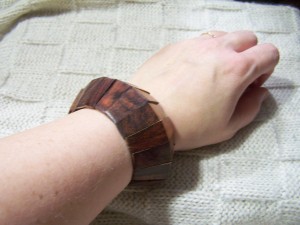 The flowered bracelet has been a favorite of mine since I first learned of five ACCESSORIES, and I actually gave my mother-in-law one for her birthday. She loves blue. I love flowers and this definitely attracted my eye. It has a nice loose fit, is very pretty and is my favorite of the two.
Both are well made and will be a great accessory for nearly any casual outfit.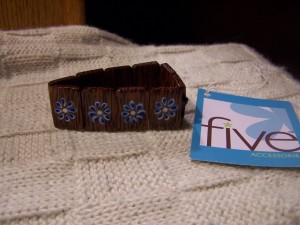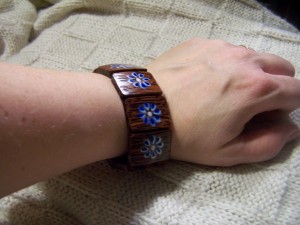 Share and Enjoy