I did receive this product in exchange for work I did for someone.
I have loved the look of this flowered hat from Mayu ever since I saw it on their model. It is another handmade, hand-knit alpaca product. It comes in several colors: charcoal gray, chocolate brown, kelly green, red, eggplant purple and orange. I received a kelly green one. It is just as soft as the throw and just as beautiful in design. However, it was too small for my head!

I was very disappointed. For some reason, it doesn't quite cover my ears. It fits my all my children pretty well, especially the ones with less hair. If you look at the model pictures on Mayu's website, the one of her wearing the eggplant purple looks smaller than the photo of her in the cream colored one. It is supposed to be a one size fits all, but if you have a lot of hair or a big head (yikes!) then you may want to ask them to custom make your hat or just order one of their slouch hats. These hats and the slouch ones retail for $59.00. Again, they are hand-knit by Peruvian artisans in the Andes Mountains and the sale of these products goes towards helping support the women who make them. Please visit www.shopmayu.com for more information.
Here are a couple of photos: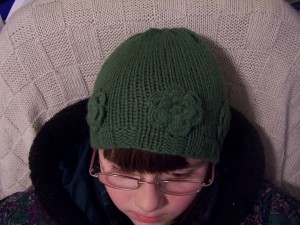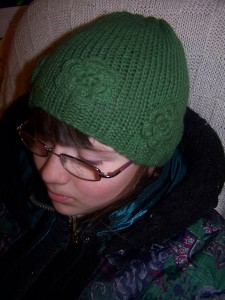 Share and Enjoy