I was sent a complimentary Friendship Bag by Daisy Cook LLC in exchange for writing a review. While I consider it a privilege to receive free products to review, my review is my honest opinion and thoughts of Victorian Style Pink Friendship Bag.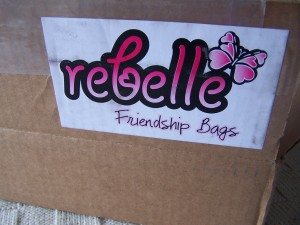 My two youngest daughters were very excited to receive the box containing a Rebelle Friendship Bag; even our oldest daughter, at her age, was interested in the Friendship Bags, but I think that she will outgrow it faster than the two younger ones will. So that's why I opted that the younger girls would be my review assistants with this product.
Ms. Cook sent us a Victorian Style Pink Friendship bag, just in time for Valentine's Day! It is a pretty pink, with pink hearts, silver rhinestones and a pink-purple-turqouise-gold paisley background.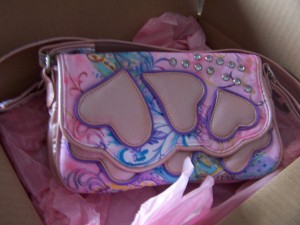 The neat and interesting thing about a Friendship bag is the fact that it is a two-in-one bag. It is actually two small purses that zip together and can be detached and shared! I didn't realize that it did this before I received the bag. I like this feature for my girls because my older daughter can zip her 3-year-old's purse to hers when we go out and keep it from getting lost!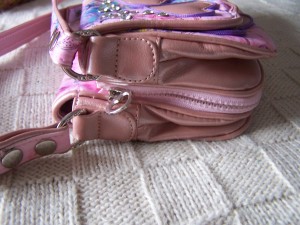 This feature is unique in that all of the Friendship bags will mix-n-match, so girlfriends/sisters can trade, share and wear their bags together.
Yet another surprise was a little card inside the bags saying that the recipient has a secret code that can be entered online. It took us a little time to figure out where the secret code was because at first I thought it was on the card and you had to scratch it off to see the secret number. When that didn't work, my daughter discovered a pink tag sewn inside the bag that says, "Cut open to reveal your secret code". Okay, just imagine a nine-year-old and a three-year-old on a secret mission to find their code. They were really into this! I cut the code tag out to eliminate any accidents that might result in little hands cutting their purses and inside the tag was a piece of paper with their code. Then they were eager to go online to see what happened when they entered their codes!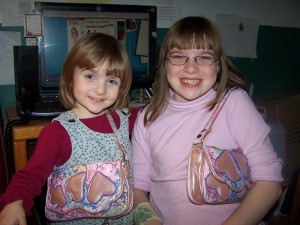 We visited www.FriendshipBags.com and clicked to sign up where you have to enter your name (I didn't use my daughters' real names!), email address, password, and if they are under 12, then a parent's email address is required. And lastly, their secret codes!
Once their secret codes were entered, they were then told they could enter the Design Studio! They have had so much fun designing outfits for the Rebelle Girlz. The girls can even create their own patterns, which I think is going to be more interesting to my two older girls than the younger girls at this point. Through the design site, the girls are even able to email their creations to the owner, Daisy Cook, for consideration for future ideas etc. for Rebelle! Oh yeah, you go girls!
I am very impressed and like the fact that they can learn and create through the website. My nine-year-old, "Giggles", really liked the rocky music that introduces the website.
I asked my girls what they would rate their new purses, 10 being the best and 0 being the yuckiest and they gave them a 10! ("Blondie", my three-year-old, had a little help from her sister!

)
You may visit www.FriendshipBags.com for more information and choices of bags. By the way, I forgot to mention that the Friendship Bags retail for $40.00. That's only $20.00/gift if you have two girls or a daughter and her friend. Pricey, but not too bad when you think of it like that.
Here's a couple of videos, one of the secret code and one of the Design Studio:
Share and Enjoy