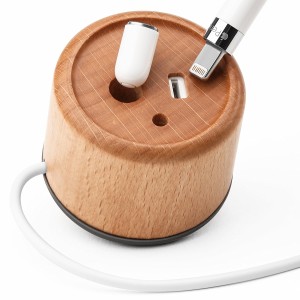 Stylish real wood charging stand (Output 5V) with built in charging cable (1M), combine pencil stand and charger in to one.

Fully charge your Apple pencil by 1.5 hours with power bank, laptop, wall charger, car charger at any time.

Anti-slip rubber bottom to maintain position of the charging stand.

Real wood design provides you a stunning alternative on both appearance and texture.

Use the stand as Apple pencil accessory, store your Apple pencil and cap without losing them.
Our Review:
This is a neat chrger! I bought this charger for my daughter to use for her IPOD. I would have used it too …and wish I could but I have an Android phone! This charger works as well as any other charger …except it has the great little ammenities like the apple pencil slot! She thinks this is great…as do I. It is small and sits pretty on her desk and her chrger just plugs right into the charging port! It has a wood finish which is nice and pretty and goes with any decor…and the anti slip rubber bottom is awesome! It keeps the charger in place. It gives a great charge and the IPOD stays charged! This is a wonderful product!
Share and Enjoy