Welcome to the world of Block Island ORGANICS! I Love it! We love when products are organic and this is another great find!
Block Island Organics Natural Face Moisturizer is an advanced daily moisturizer made with clear zinc that nourishes skin. Fortified with broad spectrum SPF 30 sun protection to prevent wrinkles & early skin aging. It provides ultra lightweight non-comedogenic, broad spectrum UVA & UVB protection. Along with all the aforementioned attributes it is also WATER RESISTANT!
We loved that the facial moisturizer was SPF 30 and was water resistant! This moisturizer rubbed easily into the skin and felt nice. During the time I tried this facial moisturizer I did not experience break outs…sometimes moisturizers with an added sunscreen can cause my skin to break out. This one did not!   The product is organic… which is so nice to hear in such a chemical laden market!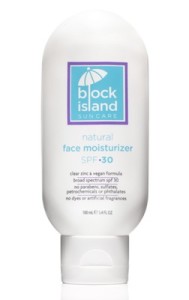 AWARD WINNING – 2016 Best Moisturizer with SPF (Environmental Working Group – EWG)
MOISTURIZING – Shea butter, aloe and more keep skin hydrated, can be worn under makeup
HEALTHY – Organic and natural ingredients – clear zinc only (safest & best UV filter)
EFFECTIVE – SPF 30 & broad spectrum protection decreases the risk of skin cancer & aging
CRUELTY FREE – Vegan formula and never tested on animals
TRUST – No parabens, sulfates, phthalates, dyes, fragrance. Made in USA
For a list of ingredients please CLICK HERE.
This is a great Organic product … please visit Block Island Organics to view this and their entire line of products. They are running a special right now … when you check out please use the code magen
Share and Enjoy