Last week I had the pleasure of test driving a Kia Optima LX Turbo.  That sure was a treat!  I'm so used to driving around a minivan, having the opportunity to drive a car was so much fun.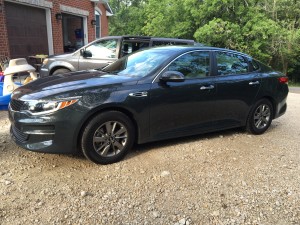 First of all, the car was gorgeous.  Really nice looking on the outside and the inside was not only easy on the eyes, but super comfortable.  I felt like I was driving a luxury vehicle.  The Kia Optima had great pick up.  I definitely sped a little too often without even realizing it.  Of course my favorite feature on the car, as is with most KIAs, was the back up camera.  It sure makes life a whole lot easier when I can simply look on the screen and see almost all of my blind spots.  I also really love how the car beeps at me when someone is getting too close to me, or I'm getting too close to a ditch.  What a great feature!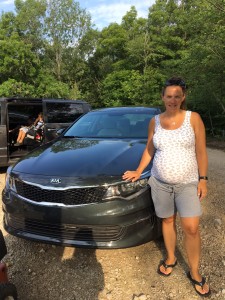 The KIA Optima gets 32 MPG, which in my eyes is amazing!  It's very fuel efficient and has a lot of great safety features including dual front airbags, front seat mounted side airbags, driver's knee airbag, traction control system, and the tire pressure monitoring system.  One thing that really surprised me about this vehicle was how absolutely huge the trunk space was.  Both my mother-in-law and I went grocery shopping and bought over two carts full of stuff.  I thought for sure we would have to put some bags in the back seat.  I was shocked they all fit with room for more bags!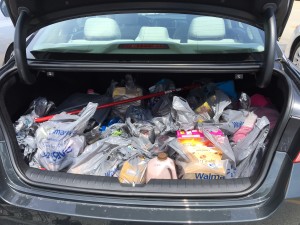 I highly recommend the KIA Optima LX Turbo to men and women of all ages and all walks of life.  It really is a great vehicle!
Share and Enjoy