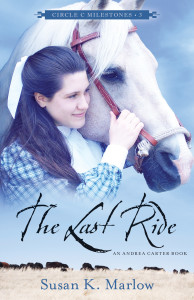 About the Book:
Andi's newest adventure may be more than she can handle–even with her family's help Andrea Carter is turning sweet 16 and life could not be better. She's about to finish school, her sister Melinda is getting married, and her older brother Justin has a new baby to spoil. There will be plenty of time to work with the colt of her treasured palomino horse, Taffy, and best of all, Andi will finally get to work full-time for the ranch she loves. There's just one problem: a city-slicker cousin named Daniel. Left there by his father, with a cryptic warning that New York City life has done damage to the young man's character, Daniel wants nothing to do with the ranch. He ignores Andi's lessons, walks away from responsibility, wrecks valuable equipment, and even runs away to San Francisco. The Carter family is in a frenzy trying to keep Daniel under control. When Andi discovers a horrifying secret about him, he forces her to stay silent. But all that changes when Daniel's actions put lives in danger. Andi's anger over her loss threatens to destroy not only Andi but her entire Circle C world. Can anyone break through the wall around Andi's bitter heart and help her find healing? Loyal long-time readers of Susan Marlow's historical fiction will line up for an older Andi's newest adventure, and her discovery of how powerful love can be. – See more at: http://www.kregel.com/fiction/the-last-ride/#sthash.tL1Bh1ww.dpuf
Our Review:
First of I must say this was a wonderful read! I have not read any of the previous Andrea Carter books…so this one is one that can be read if you have not read any other Andrea Carter book. Although, I must say it makes me want to go back and read the rest of the Andrea Carter books!
Andrea is a great heroine, especially for teens! This book was packed with adventure, romance, and drama. Just enough to excite…but not too much to over saturate the mind!
I do not want to give away more than the summary I posted above…because this book is a must read …I do not want to produce spoilers for future readers! But if you are looking for a good book full of adventure romance and a bit of drama…check this one out!
You can find this book and all of the Andrea Carter books at:
The Longest Ride: An Andrea Carter book by Susan K. Marlow
Share and Enjoy