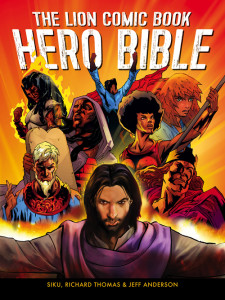 A stunning new comic book version of the Bible now given the superhero treatment by the team behind The Lion Graphic Bible and The Manga Bible
The story of the Bible is a unique tale of origins and cosmic powers; of the ageless battle between good and evil; of human potential and human treachery; and of a Messiah–a savior for the world. This is indeed the stuff that graphic novels are made of. Superheroes are the biggest comic genre of all, with many heroes having their origins in biblical characterization and imagery. This is the first Bible retelling to engage with and challenge the superhero genre.
The Lion Comic Book Hero Bible is a dynamic expression of the Bible's depth and power, produced in the style of Marvel™ Comics. You've heard of Spiderman, Superman, and Wonder Woman. Now meet Earthman, Lawman, Warrior Man, and many others. With dynamic illustration using a range of styles, Siku (Old Testament) and Jeff Anderson (New Testament) bring the Bible stories alive for a new and graphically sophisticated generation. – See more at: http://www.kregel.com/siku-richard-thomas/the-lion-comic-book-hero-bible-2/#sthash.xiDBBwn9.dpuf
Our Review:
We were so excited to see this publication. I was confident that my children and religious education students would gravitate toward the publication immediately. I was right! My 9 year old son grabbed it as soon as I opened the package. He was eager to get into the text! He is a graphic novel fan and a comic fan so this Bible was right up his alley. As for my students … this worked as a great supplemental Bible when they are working on activities. They love to look up characters and their stories within the Hero Bible.
Overall this is a great publication. The pictures are vivid and exciting and it presents the le in such a great new way! Do not miss out on this new publication.
Share and Enjoy