Before I had kids I always said I would never ever be the soccer mom driving a mini van. I would always want an SUV rather than a minivan.  Well, after I had kids I got smart and starting looking at minivans. Once you drive a van with kids, you'll never go back!  I had the opportunity to drive around a Kia Sedona SX-L for a week, and boy was I the envy of all of the other moms!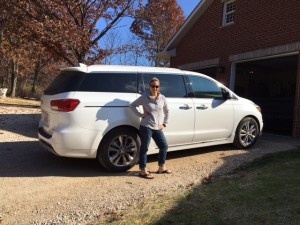 The Kia Sedona had every single bell and whistle you can imagine to make life easier!  I was amazed at how roomy it was on the inside. I felt like I could fit 20 kids on there.  The seats folded down in the back and I had lots of room to fit all of our luggage, and even a dresser!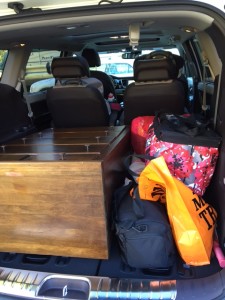 The leather seats were so comfortable and easy to clean!  Dual sunroofs made it fun and airy for the kids.  I was disappointed when I didn't see a DVD player hanging from the ceiling, and then I realized it pops up from the center console. How nice that I no longer had a blind spot when my kids wanted to watch a movie.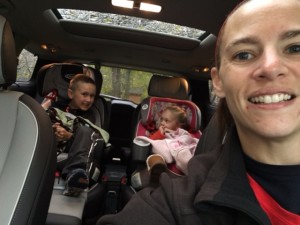 The navigation was very user friendly and all of the climate controls were easy to control.  My favorite part was the heated seats and heated steering wheel. My husband liked that he could make his seats cold.  It was nice to have both options.  The Sedona drove very smooth.  I found myself speeding quite often it rode so nice.
The absolute best part of the entire vehicle, though, were the back up cameras.  I literally did not have to even look behind me when I was going in reverse.  The cameras showed me every single angle imaginable and even alerted me when I car or pedestrian was entering my zone.  It was absolutely unbelievable and I felt so safe.  I am a terrible parallel parker, but with this feature I was able to do it the first time!
The Kia Sedona has great gas mileage and an amazing 10 year/100,000 mile limited powertrain warranty.  If you are looking for a new family car, you most definitely need to take a Kia Sedona SX-L for a ride. You will not be disappointed!
Share and Enjoy