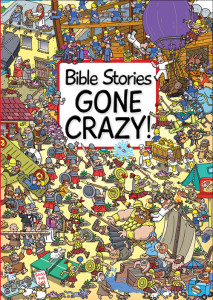 About the Book:
Created by Josh Edwards & Emiliano Migliardo
Eight Bible stories are depicted in bright color and comic, cartoony illustrations. There is a sentence or two explaining the scene at the top, and then details to spot, mistakes to find, and questions to answer along the sides of the picture, such as, "Did Noah's workmen REALLY have power tools?" and "How many rabbits are in the picture?" Children will love scouring the illustrations to find the answers and spot more amusing details in the busy artwork of Emiliano Migliardo.
The stories are Noah and His Great Ark, Moses Crossing the Red Sea, Joshua and the Fall of Jericho, David and Goliath, Daniel and the Lions, Jonah and the Big Fish, Feeding the 5,000, and Man Through the Roof.- See more at: http://www.kregel.com/childrens-activities/bible-stories-gone-crazy/#sthash.4UqMY8i4.dpuf
Our Review:
This was simply a delightful book!
The cartoony stories were a hit with my family. My children saw this book come in the mail and immediately picked it up and began to read! I was impressed … usually I have to show them the book and ask them to peruse it first … this time they were chomping at the bit to read it before I even asked! Enough said! We loved the fact that the pages are sturdy and of lamitate quality which means that the book will last and last! We also loved that it has an "look and find" aspect to the book… it makes the children search for items in the story while learning. The text also asks open ended questions that make for great family discussion on the stories! This book is a WIN WIN!
Fin this book and more at our friends at KREGEL Publications!
Share and Enjoy