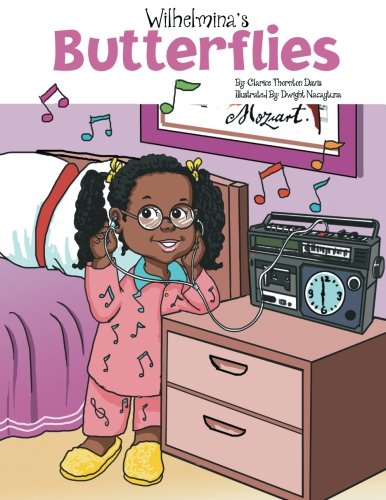 Wilhelmina is 8 years old and loves classical music. She has a difficult time explaining why to her family, friends, teachers, and classmates. When she has the opportunity to attend her first concert at Symphony Hall, something might stand in her way. Will she be able to share her love of classical music with others, or will the mysterious "butterflies" ruin the day? Become immersed in Wilhelmina's thoughts and feelings as she experiences the musical ambiance at the great Symphony Hall.
OUR REVIEW :
As a music loving family this book was welcomed in our house! It was loved by adults and children alike! We loved that the book was able to show my children how excited other people get when listening to music just as they do! My children expressed that they felt just as Wilhelmina felt in the book. I loved that in the back of the book there is a glossary of musical terms… my children and I reviewed these before and after reading the book…it was very instrumental in facilitating a discussion about the book and music! In the rear of the book after the story there is also list of some classical music that Wilhelmina listened to at Symphony Hall. This was so great to see … it gave names to the music … it also let me look up the music and play it for my children. My children loved listening to the music and again it facilitated a great discussion on classical music and even prompted my children to do a bit of research on the compsers… that was so wonderful for this musical mama to see!
Overall this was an EXCELLENT book…WE LOVED IT!
The book can be found on Amazon.com
 About the Author
 Clarice Thornton Davis holds            degrees from Florida Atlantic and  Walden Universities. She has always  had a passion for literature and  music. Her career as an educator  inspired her to become a writer for  children. A Florida native, the author  and her husband live in West Palm  Beach.
Share and Enjoy