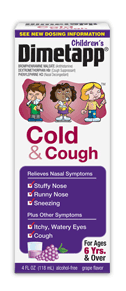 We were pleased to review this product! Smiley 360 provided us this product for free to review.  Dimetapp is our go to favorite in children's medicinal products! … We have tried a variety of others … but this one stands true with quaility, effectiveness, and taste. The grape flavor is easy for children to swallow. There is nothing more I dislike more than when one of my cildren spits out the medication I am trying to dispense. Thus, I either mis a dose or try to caluclate how much actually got into the child and dispense the rest. With dimetapp… I have not had any dosing issues because it is taken well… the children like the flavor! YEAH!
As for effectiveness… it works great … it subsides symptoms for the duration of the cold/sickness and helpd the children feel better!
If you would like more information on the product including ingredients and dosing information please click here!
Get your 1.00 off coupon here!
Share and Enjoy