We have introduced the Candle Classic Bible and the accompanying handbook in the past… NOW we highlight a new Candle publication that is just as exciting!
Candle Prayers for Kids is a delightful companion book to the Candle Bible series! The bold and vibrant illustrations by Jo Parry,complement a combination of traditional and modern prayers by Claire Freedman, author of the Benjamin Bear series . This book helps bring prayer and talking to God into the life of every child.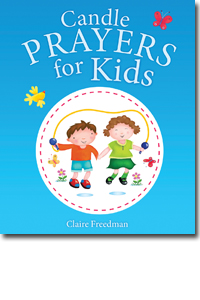 OUR REVIEW:
This was such a refreshing prayer book to review! I was very excited to flip through the pages and see that it really IS geared toward children! The books easy-to-use format and simplified language makes this book perfect for little minds! The author really did a great job of creating prayers just for children.
The prayers fall into all occasions… school, holidays, pets, thank you, nighttime…etc. The simple prayers are great for home, school, and church …there are so many wonderful prayers it is hard not to list them all! Anything a child might be thinking of has a prayer in this wonderful book!
Aside from the beautifully penned text and cheerful illustrations, I was also excited to see a wonderful bookplate to inscribe if giving as a gift… this always makes these types of books special!
This book and many others are carried by Kregel Publications
Visit their site and peruse all the wonderful books they have to offer!
www.kregel.com
http://store.kregel.com/productdetails.cfm?PC=3361
Share and Enjoy