Welcome to the world of ORGANIC sunscreen! I Love it! We love when products are organic and this is another great find!
Block Island Organics sunscreen is a non-toxic mineral sunscreen for face & body. It provides ultra lightweight non-comedogenic, broad spectrum UVA & UVB protection. Along with all the aforementioned attributes it is also WATER RESISTANT!
We liked that the sunscreen was fragrance free and instantly absorbs into the skin. Regular sunscreens take forever to rub into the skin … but this one takes only seconds to disappear and start working! THe sunscreen is mineral based and synthetic free… which is so nice to hear in such a chemical laden market!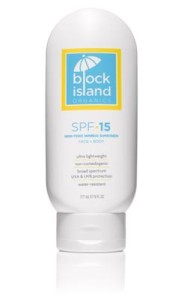 The sunscreen we reviewed was the SPF 15. We found that it worked well for protection during the cooler months where face and neck were exposed. During the summer months at the beach or pool… we might opt for a stronger SPF…which Block Island DOES carry!
I must also mention that I used the sunscreen not only on my children but also on myself. I applied the sunscreen to my face as an added protection and it went on smooth and was not greasy at all. So often facial sunscreens feel heavy on the face… this one was very light. However, since I rarely wear makeup I cannot say how it would feel as an underlayer to foundation… but I am sure it would work well since it absorbs so quickly!
For a list of ingredients please CLICK HERE.
This is a great Organic product … please visit Block Island Organics to view this and their entire line of products. They are running a special right now … if you sin up for their newsletter you get 15% off your order!
Share and Enjoy