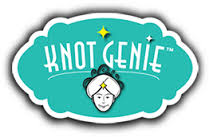 Well…we have done many reviews of hair care products lately that we thought we might add a review of a nifty styling tool/brush called the KNOT GENIE.
There are 3 products in the knot genie family they are pictured below: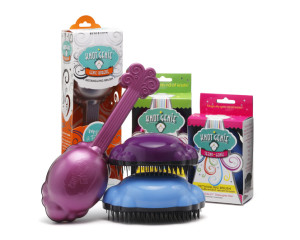 The Teeny Genie
Knot Genie
Supreme Genie
The Knot Genie detangling products were created for every parent that has endured the foot stomping and screaming matches that come with brushing their child's hair. With Knot Genie, even the curliest, most knotted up hair practically slips through the unique bristle configuration ~ gently and painlessly.
We were able to review the Original Knot Genie and the Supreme Genie (*note: the Teeny Genie is only a smaller version of the Knot Genie).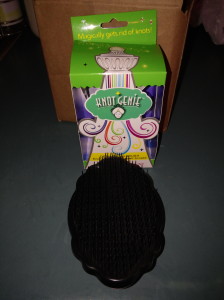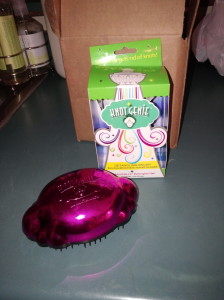 The thing that makes the Knot Genie so wonderful is the bristles. Above are my pictures of the bristles. Below is a closeup: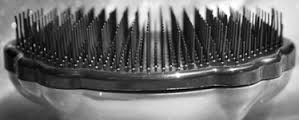 U.S. Online Store
The Knot Genie products have different lengths of teeth on the brush. When brushing , they bend just right to gently untangle the hair. Knot Genie company claims that because of the lack of stress to the hair the hair's cuticle stays unharmed…revealing the smoothest, shiniest hair you have ever seen.
We cannot agree more! The brush untangles the hair nicely and leaves hair smooth and shiny! Once more the shape of the brush fits nicely in the palm of the hand making brushing easier! … For little hands the Teeny Genie might be a better fit…but my 6 and 10 year old use the traditional Knot Genie with ease!
For those of you who like the feel of a traditional brush with a handle, try the Knot Genie Supreme…the only difference if that it has a handle!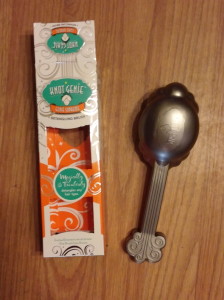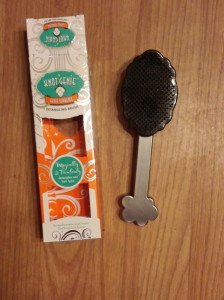 I suggest this product for anyone who has hair… long hair or short hair…young hair or old hair! It works wonders! I have to say I have used it on both my daughters and myself with wonderful results!
Find out more about the Knot Genie and buy one today!
Share and Enjoy