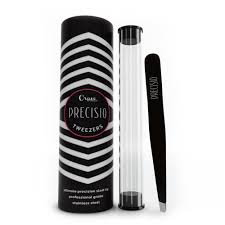 I have been looking for a good tweezer for a while now…and jumped at the chance to review this new item by CRAVE! First of all I LOVE that they have a LIFETIME GUARANTEE… this makes the 19.99 price tag easier to swallow!
The tip is VERY precise! I was able to pull out or "tweeze" my eyebrow hairs very selectively and easily with these tweezers. It only took one tweeze to get a hair…with my old tweezers I usually pull and pull at a hair just to get it to come out! These went in grabbed the hair and out it come… no fussing and crying over hairs still in place! Since they work on getting hairs out the first time there is less pain while tweezing… and the tweezers actually pull the hair out by the root…no more half hairs as I call it (when the tweezer only pulls out part of the hair). BEST OF ALL THEY DO NOT PINCH MY SKIN!!!
The Crave Company GUARANTEES that these tweezers will stay sharp for life (no resharpening or replacement)… I will get back to you on that one…but I am HOPING that the claim is genuine (which I am sure it is!)
Overall the design is great…they are comfortable to handle and I like that they have a matte finish so that your fingers can actually grab on to the tweezer without slipping.
Additional uses:
Of course these tweezers can have a dual purpose such as first aid and tick removal. I have yet to take advantage of this option because there has been no need as of yet! However, I think these would be a great addition to any first aid kit. First of all they are made of high quality surgical grade stainless steel and come in a neat little sanitary holding case so that they are not damaged or contaminated during storage; fitting nicely into a first aid kit.
Actual picture of what I received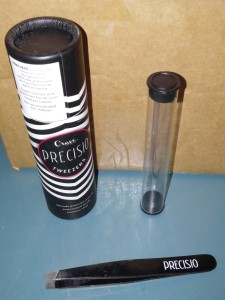 Close up of Tweezer lets you see the precision tip!

This and other crave products can be purchased on Amazon
http://www.amazon.com/Tweezers-Slant-Tip-Stainless-Steel/dp/B00J6L7HAA
Share and Enjoy