Mommy's Bliss® Kids Upset Tummy & Nausea Relief is a safe and effective all natural liquid herbal supplement.
Sugar Free. Individual Dose Packets. Works great for:
nausea
motion sickness
gas & bloating
indigestion
general stomach discomfort
When your child isn't feeling well, you need a solution that works fast. Tuck our single-dose packs into your necessity bag for daycare, for overnights with family and for long trips on the road. It's one of the most effective all-natural nausea remedies you can buy.
Stomach relief for kids
Baby stomach ache relief
Great for kids with food allergies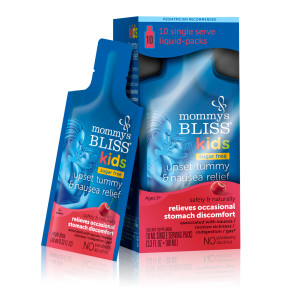 What causes an upset tummy or nausea?
Several common causes bring about an upset tummy or nausea:
Infections brought on by viruses or bacteria can cause abdominal pain and should be evaluated by a physician.
Several food-related reactions can cause bloating and temporary discomfort, including:

Food poisoning
Food allergies
Overeating
Indigestion.

Motion sickness can cause an upset stomach.
Other medical causes might also be at fault. A physician should evaluate any abdominal pain lasting for more than 24 hours.
http://www.mommysbliss.com/store/products/kids-upset-tummy-nausea-relief/
Share and Enjoy