What if your child could draw anything they wanted and have it turned into a stuffed animal?  Basically their drawings could be brought to life. Now it is completely possible thanks to Budsies.  Their simple and fun process makes getting your custom stuffed animal as easy as 1,2,3.
First your child needs to draw a picture. It can be anything really. The Budsies website even offers templates for you to use. My son is really into monster trucks so he wanted his very own custom monster truck.  He drew it all by himself and colored it.  I asked him if he wanted to add windows or use different colors, but he drew it completely on his own.
After it is drawn you need to send Budsies your artwork.  You can upload a picture of it or you can take a picture of the drawing with your cell phone and text it to them.  I used my iPhone and texted them a picture.  After that you finish checking out.  They ask you a series of questions to understand the drawing. This was my son's favorite part.  We told them that the monster truck was angry, had lots of blue hair, and had big teeth.  Finally, you sit back and wait for your custom stuffed animal to arrive.  I have to say my son was very anxious and could not wait to see his creation come to life.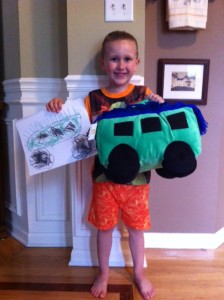 At last it arrived and my son could not stop smiling. He could not believe he had an actual monster truck that looked exactly like he drew. He goes absolutely everywhere with his Budsie. He sleeps with it every single night and plays with it all day long.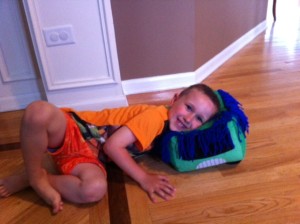 I have to say the quality of Budsies is superb! The material is super soft and cushy, and the colors are very bright.  My son just lit up the second he saw his monster truck stuffed animal.  The customer service at Budsies is exceptional.  At one point I contacted them to find out how much longer it would take to receive the stuffed animal. My son kept asking me when it was going to arrive.  They have a chat option available on their website where a real live person talks to you and tells you what is going on with your order.  The person I chatted with was so nice and really cared about my order.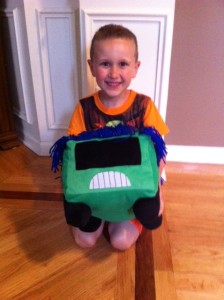 I honestly cannot say enough good things about Budsies. I would highly recommend them to anyone with children, young or old. They would make an excellent gift.  Check out their website, you won't be disappointed!
Share and Enjoy