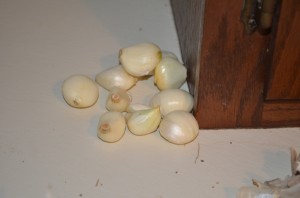 Summer Will Come!
     Here in northern Illinois, six days into spring, it's just 11 degrees as I write this post at 7:00 AM.  Maine and Massachusetts have it much worse.  They are windblown and buried under more snow. I encourage my shivering, blue lipped husband and friends, so discouraged and "snow whipped," to hang in there.  Summer will come!
The sun did come out for a few days and it warmed up nicely to 55 degrees. Time to take off the socks! I turned off the thermostat and opened all the windows to air the place out.  My dogs napped on the deck serenaded by singing birds. Creatures were stirring in the house too. Creepy crawlies emerged from the cracks and crevices and the bright sunshine reminded me to do a better job of dusting and sweeping away cobwebs. Half dead flies roused from their winter comas, too weak to fly, barely crawled on the window sills. They made their annoying presence know, amazingly, by halfheartedly buzzing. I smushed several silver fish in my bathroom not wanting to think about the new life hatching down in the drains getting ready to invade.
All this buzz of activity made me think of garlic. This powerful and potent little bulb works miracles on wasp stings and those angry little guys will be out in full force very soon.  The first summer of our marriage, Rosario and I were visiting my mother in Wisconsin. We were lounging on the grass when I got stung by a wasp. It got me under my arm, that soft tender spot where the sun never shines. Rosario jumped up and ran into the house. The pain was burning and so intense my eyes watered. He came outside with a clove of garlic cut in half. He put the cut side on the site of the sting. I thought he was crazy, but, it stopped throbbing and the pain relief was almost instant. Thankfully, I am not allergic to wasp venom and there was not stinger to pull out.
I learned that bumblebees rarely sting because if they do they will die. Wasps, on the hand, live to sting another day! So, keep the garlic cloves handy at home and on the go because even though you might still need the shovel, snowplow, ear muffs and mittens, SUMMER WILL COME and so will unwelcome stinging guests.
For more information and other ways to treat wasp stings check out: http://www.buzzle.com/articles/wasp-sting-home-remedy.html
Share and Enjoy