Do your kids enjoy looking at photos of themselves? My kids absolutely love looking through photo albums of themselves and talking about what they were doing and who is in the picture with them.  What if you could design a book completely centered around photos of your children and written for your child? Twigtale has made this possible, and it's very easy to do!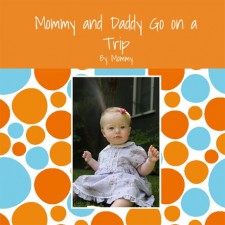 Twigtale makes personalized children's books focused on early transitions such as moving, parents going on a vacation, or gaining a new sibling. They also make "anytime" books that build self-esteem and promote child development.  Your first step is to go to www.twigtale.com and choose which book you would like to create. I chose "Who Loves Me?" It's a book all about the many people who love my daughter.  Once you choose the book you want you can begin building the book or see a list of photos you will need to complete the book.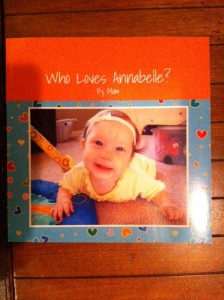 I found that viewing the image list helped me to gather all of the photos needed before I started the book. I saved them all in a folder to my desktop so they were easy to access.  You can either upload all of the images you have right away or add images as you go. Since I had already picked out my images I created a new gallery and uploaded them all at once.  It was really easy to just drag them from my desktop into the program for uploading.  Next you answer a few questions such as who the book is for, who is creating the book, and the gender of the child.  The book then populates with all of this information and you're ready to start writing the book.
You begin with the cover page and go page by page until the end. Simply drag a photo to the desired page, edit it if needed, and insert text. Most of the story is there, you just need to insert people's names.  Honestly it took me about 20 minutes to make the whole book. It was so fast and easy.  When you get to the end of the book, you're able to preview it and check for errors you may have made. That's it! Input your personal information and billing information and the book will be mailed to you shortly. I received my book in three days, it was very fast!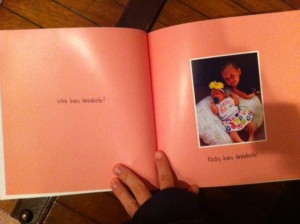 The finished product was of very high quality. The colors are bright, the quality of the images were great, and the pages were nice and thick.  All of the books are only $20 each, and would make great gifts.  I plan on giving my daughter hers for her 1st birthday.  The site was very easy to navigate, and creating the book was very user friendly.  I even made a few mistakes and had to delete photos and upload new ones. I was very pleased with how fast the process was. Overall, I would definitely recommend Twigtale personalized books.  A high quality, personalized book, for a very affordable price!
Share and Enjoy