This is a guest post.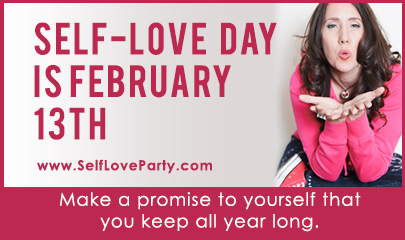 Be More Loved in 2014
Do you over-give, over-do, over-work? Have relationships that aren't respectful? Settle for less than your heart desires? Criticize, judge or compare yourself? Make choices based on fear, shame, or guilt? These are all signs you need more self-love this year, because these are all actions that are not self-loving.
Self-love is a choice you make, a permission you give yourself, like a best friend would.
Download the FREE Self-Love Pulse Check & Self-Love Promise Kit to grow your ability to make choices that honor your heart & soul >> www.ChooseSelfLove.com
Make 2014 a Year You RECEIVE MORE LOVE for Yourself, Starting with the Love From Yourself
Celebrate The International Day of Self-Love, February 13th. RSVP for this free live-streamed event on self-love day with best-selling, self-love expert Christine Arylo and self-love singer Karen Drucker. They'll guide you to:
Give yourself permission to get what YOU need to feel taken care of, loved and free.
Take a Self Love Pulse Check – see where you're weak in your relationship with yourself and where you are strong.
Participate in a self-love ceremony & make a set of self-love promises that'll support you to give yourself what your heart and soul desire
Receive a set of Love Mantras you can use all year to transform guilt, shame, blame, fear, stress and criticism into LOVE in minutes!
It's free to register. RSVP for free Now – Go here to register >> http://www.SelfLoveParty.com
Share and Enjoy