I am by far the worst person to wake up to in the morning.  That is until I have my first cup of coffee.  I have tried numerous different coffee makers from drip brewers to single serve to drive thru.  My tastebuds certainly know the difference between a good cup of joe and a bad cup.  I had the pleasure of trying an amazing pot (notice I said pot, not cup), of coffee from a revolutionary new cofee maker, the iCoffee by Remington.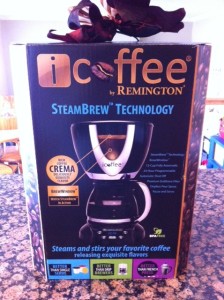 The iCoffee by Remington is the first coffee brewer to actually SteamBrew your coffee.  Their patented SteamBrew Technology utilizes steam jets inside of the coffee brew basket to release all of the locked-in flavors of the coffee grounds.  You know how rice and vegetables taste the best when their steamed? This is kind of the same idea.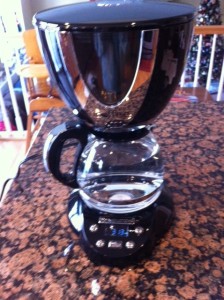 The iCoffee is very easy to use.  Simply fill up the water reservoir, add the amount of coffee you would like to the SteamBrew basket and you're ready to go! After a few days of trying, I realized I did not need to add as much coffee as normal.  Since the iCoffee really brings out the flavors, I was able to use less coffee.  I did notice some sediment at the bottom of my cup.  This is normal for the SteamBrew Extraction Technology. My husband did not like the sediment so I simply placed the optional filter inside of the SteamBrew basket to eliminate it.  This coffee maker is very easy to clean as well.  Some of the pieces are even dishwasher safe.
Overall the iCoffee brews amazingly smooth tasting coffee.  It has a very creamy texture, and the taste is out of this world!  No bitterness at all.  I loved that you could watch the coffee steam from the little window in the front.  My other favorite feature is the iCoffee sings a song when your coffee is beginning to brew, and sings again when your coffee is ready.  The music can be turned off as well.  The iCoffee is also programmable so I can set it at night and my coffee is ready when I wake up.  The design of the iCoffee is very sleek and fits nicely on my counter.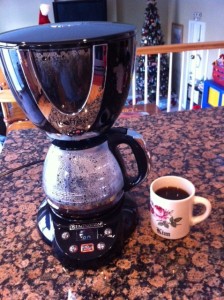 The iCoffee by Remington would make a great gift this holiday season for any coffee lover.  Both my mother and mother-in-law have been eyeing mine after they tasted how incredibley smooth the coffee is.  For more information, including a great video of the iCoffee in progress go to their website at
Share and Enjoy