I am a BzzAgent and received these products from BzzAgent.com for review at no cost to me. I receive no monetary compensation for my open and unbiased review. The purpose of BzzAgents is to generate word of mouth sharing of information – both good and bad – about the products offered by both familiar and unfamiliar companies.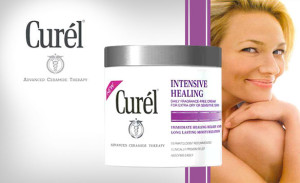 DRY SKIN GOT YOU DOWN?
When your skin's excessively dry, cracked or irritated, daydreaming of comfort and relief is an everyday thing. But in your dreams, was the answer ever a heavy – and, ugh, sticky! – lotion or cream? This is the part where you put down those other lotions and pick up dermatologist recommended Curél® Intensive Healing Cream:
Spreads easily, non-greasy and absorbs quickly
Provides immediate healing relief and revitalizes cermamide levels for long-lasting hydration
Clinically-proven to help chapping and chafing caused by dryness
Fragrance-free and hypo-allergenic
9 out of 10 dermatologists recommend using it
Pediatrician tested: suitable for children 6 months and older
Excellent for dry skin associated with diabetes — Curél® is a proud partner of the American Diabetes Association
WHAT ARE CERAMIDES?
Ceramides are natural lipids and a major component in surface skin structure. They serve as part of the "glue" that holds surface skin cells together.
WHY ARE CERAMIDES IMPORTANT?
Dry, irritated and sensitive skin often lacks ceramides. As a result, skin's protective barrier is compromised and becomes more susceptible to environmental factors, changes in the season and other irritants.
Research proves that dry and damaged skin is often linked to depleted ceramide levels. Ceramides are naturally found in your skin's outer layer, helping skin retain its moisture. While traditional lotions only hydrate the surface of your skin, Curél® Intensive Healing Cream works at the source of dryness to strengthen skin's moisture retaining capacity — so you're not just relieving symptoms, but actually preventing dry skin from returning over time!
Relieve irritated and dry skin instantly; lock in moisture for all-day hydration and repair skin by forming a protective barrier to keep future irritants out. Feel the difference Advanced Ceramide Therapy makes every time you apply Curél® Intensive Healing Cream.
Our review:
This is by far the MOST hydrating cream I have used EVER! It is my NEW favorite. I have always loathed cream that left a greasy feel … this cream DOES NOT! I admit I was leery of its hydration qualities but it is so thick and luxurious it just melts into your skin for a luxury hydration experience.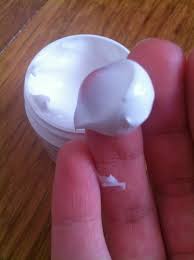 I often use hand cream while I am working and/or on the computer…so I want something that will go on fast and seep into my skin without that greasy after feeling. This does the trick! Goes on sooth and fast and works instantly! Whenever I feel dry I just dab some on my hands…or ANYWHERE my skin needs moisture and VIOLA! I am instantly satisfied!
For more information visit http://www.curel.com/products/intensive-healing-cream.aspx

Share and Enjoy