Faith and Family Reviews received the following product in exchange for writing a review. While we consider it a privilege to receive free products to review, our reviews are our honest opinion and thoughts of the product.

Just in time for Trick-Or-Treating!
Continuing to celebrate the reunion of the dynamic candy dui Mike and Ike, Just Born Quality Confections is releasing TWO Halloween themed editions of the iconic Mike and Ike fruity, chewy candy. Mike and Ike Mummy's Mix and the new Mike and Ike Vampire Variety are perfect for all trick-or-treaters this Halloween.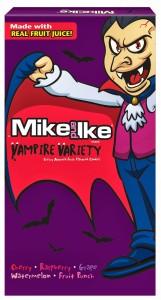 All Mike and Ike Halloween mixes and others including original Fruits, tropical Typhoon, Berry Blast, red Rageous and more, are now made with real fruit juice that enhances the great flavors! Mummy's Mix contains the great taste of lemon, orange, grape, lime, and raspberry…while Vampires Variety includes cherry, raspberry, grape, watermelon, and fruit punch.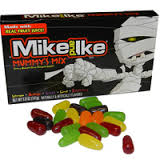 The Halloween flavors are available in several packages including 5 oz. Theatre boxes of Mummy's Mix and Vampire Variety. There are also 45 or 72 county variety bags that contain individually wrapped snack sixe bags of Mummy's Mix.
Our Review:
We love Mike and Ike…we loved them and were avid fans even before this review! My children were so psyched about the new Halloween themed candies! We got large theatre box candies of the Mummy Mix and Vampire Variety and a few smaller variety packs to try. My children loved them all…especially the small variety packs that I packed in their lunch boxes as an extra special lunchtime treat! You will not be sorry you tried these out! The flavors are so good! They did not last long in our house!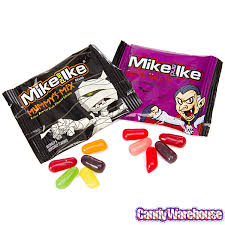 Find out more about mike and Ike on their facebook page www.facebook.com/mikeandike
Mike and Ike candies can be found in supermarkets, mass-market retailers and drug stores! Look for your favorites this Halloween!
Share and Enjoy