Faith and Family Reviews received the following product in exchange for writing a review. While we consider it a privilege to receive free products to review, our reviews are our honest opinion and thoughts of the product.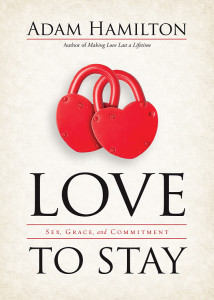 Falling in love is easy, but staying in love takes courage, hard work, and lots of grace.
In this book, Adam Hamilton explores how, with God's help, we can make love last. Drawing upon a survey of thousands of couples and singles, interviews with relationship and marriage therapists, the latest research in the field, and wisdom from the Bible, Hamilton looks at what it takes to create and sustain healthy, meaningful romantic relationships across the course of a lifetime. Contents include: More Than a Piece of Paper; What She Wants; What He Wants; The Significance of Sexual Intimacy; Habits That Hurt, Habits That Heal; Clothe, Bear With, and Forgive; A Love That Lasts a Lifetime.
About the Author:

Adam Hamilton is senior pastor of the United Methodist Church of the Resurrection in Leawood, Kansas, one of the fastest growing, most highly visible churches in the country. The Church Report named Hamilton's congregation the most influential mainline church in America, and he preached at the National Prayer Service as part of the presidential inauguration festivities in 2013. Hamilton is the best-selling and award-winning author of Why? Making Sense of God's Will, 24 Hours that Changed the World, The Journey, The Way, Enough, When Christians Get It Wrong and Seeing Gray in a World of Black and White, all published by Abingdon Press. Learn more about Hamilton at AdamHamilton.org.
OUR REVIEW:
I must admit to you that I was very hesitant to accept this review. I am Catholic and was very hesitant to read a book from an author of a different faith. The author is a senior pastor fro the United Methodist Church. But let me tell you this book will resonate REGARDLESS of your faith! This is a wonderful book… and I am VERY PLEASED to have had a chance to review the text!
Author Adam Hamilton has done much research in the compilation of his text…it is very biblical and practical at the same time. I wish I could give each of my blog readers a copy of this book because the information within its pages is very relevant to those who are in a relationship. I mean the title of the book says everything about the inner text… LOVE TO STAY: Sex, Grace, and Commitment.
The text goes through the good times and bad times of a relationship and gives little tidbits on how to help or strengthen a relationship. If your relationship is currently strong or currently faltering I think that this is a good read. The author gives many different aspects of a relationship…ANYONE can benefit from his words and findings.
Each of the chapters resonates with a part of a relationship that each person deals with and sometimes struggles with…for example chapter 2 "what she wants, what he wants" … this chapter delineates what men and women of different ages want in a mate and a relationship. To tell you the truth I never thought that what people want would be broken down into age categories… but it makes sense! This chapter is very relevant for everyone it even includes honest answers from real people.
Perhaps that is what I enjoyed the most from the book is that its pages are laden with thoughts and comments from people that the author surveyed …it is not just random thoughts that the author was thinking but real people based!
My favorite chapter is the very last portion of the book… Appendix B: Advice from Couples Married 50+ years. I think this is a great addendum to the book. I always LOVE to read what couples have to say that have made it so long in a relationship!
This is definitely a book that everyone in a committed relationship should read. I enjoyed reading the text and hope you will too.
To find out about this book or other books by the same author please visit www.abingdonpress.com
Share and Enjoy