Faith and Family Reviews received the following product in exchange for writing a review. While we consider it a privilege to receive free products to review, our reviews are our honest opinion and thoughts of the product.
The Candle Classic Bible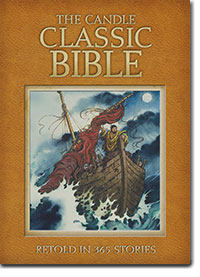 The Candle Classic Bible takes its readers through the Bible in 365 exciting days!
Each story within the Bible is divided into easy –to-read sections with Scripture references. Children will be encouraged to spend family time together, reading a new story each day.
The Candle Classic Bible is complete with traditional illustrations, and clear, well-written text. The best loved Bible stories within the Candle Classic Bible will certainly becaome timeless classics for children and parents alike.
OUR REVIEW:
At first upon being asked to review I thought…another bible? Then I rethought and examined my collection to see that I had many different types of scriptural texts but nothing that quite peaked my interest as The Candle Classic Bible. This is an AWESOME Bible… I cannot reiterate enough how GLAD I am that I accepted the review. The text is laid out in Old Testament and New Testament sections but the stories are numbered so that you can read one story a day (or however many you choose.) The text is interwoven with beautiful illustrations…these made the book for my children. They loved looking over my shoulder as I read a story to view the illustrations. I LOVED that there was a scripture reference with each story so that my older daughter and I could go to our larger bible and compare stories.
~ Sidebar: when school starts I am thinking that this will be an excellent accompaniment to my Sunday School class that is studying the Old Testament and getting bored with the language of the traditional Bible text… this should be a fun way to enhance their learning. ~
This Bible is a great transition bible … by this I mean young children who are reading will elate in being able to read their favorite bible stories that they have only heard before. This book will allow them to easily read and understand the biblical text.
One other nice addition is that the bible is hardcover and has nice Contents pages in the beginning for easy reference. It even comes with a nice ribbon to hold your page place.
Overall we were greatly overjoyed with this text. If you are looking for a family Bible, Bible accompaniment or just another Bible for your collection…then this is IT! This is such a wonderful text I suggest that you at least take time to peruse buying options for the Bible.
This book and many others are carried by Kregel Publications
Visit their site and peruse all the wonderful books they have to offer!
Direct Link: http://store.kregel.com/productdetails.cfm?PC=3087
Share and Enjoy