"I participated in a campaign on behalf of Mom Central Consulting for Cascade. I received a product sample to facilitate my review and a promotional item as a thank you for participating." www.momcentralconsulting.com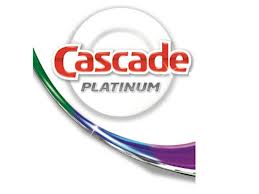 Cascade© Platinum Pacs deliver the most powerful clean available from Cascade while simultaneously helping to maintain the sparkling look of your clean dishwasher interior.
Cascade© Platinum Pacs feature an advanced triple action recipe that is specially designed to leave dishware virtually spot-free and help prevent the build-up of hard-water film on dishwasher walls.* *Use a dishwasher cleaner to remove existing build-up on wall interiors.
Cascade© Platinum Pacs achieve a top-tier clean so powerful that they even help keep your dishwasher machine sparkling and deliver a variety of dish care benefits:
• Powers away tough, 24 hour stuck-on food
• Eliminates the need to pre-wash dishes
• Helps maintain the look of new machines and helps prevent additional hard-water build-up
• Delivers exceptional dishware shine
Our Review:
This review piggybacks on Theresa's review of Cascade Platinum, as our family was also fortunate enough to review the product. We have gone through many dishwashers and many dish washing liquids and powders, powder pacs, etc… Cascade is by far the BEST product we have tried. I have always been a cascade buyer…after trying various other products and never being completely satisfied … I tried the traditional Cascade Complete dishwasher pacs on the recommendation of my sister. My sister told me that these pacs were the ONLY thing that worked for her and were by far the best out there. Well, after one use I was sold. NOW I have tried cascade PLATINUM and can give my sister a bit of advice to switch from the cascade complete to the cascade platinum. The Platinum is by far much better than the cascade complete…we have seen a difference in overall cleanliness of both dishes and dishwasher. I truly think that this product has boosted our dish washing performance.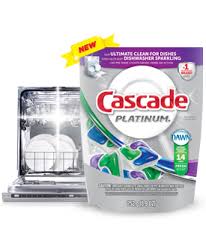 I also liked the fragrance of the Cascade Platinum pacs… it was a nice fresh scent…BUT when perusing the store aisles for Cascade Platinum I noticed that they also sold a "lemon scent" so of course I just had to purchase them…they also work great but have a nice lemon scent! I CANNOT wait to find a 43 pac tub size! Right now I have only been able to find the smaller bag sizes in my area…but know I will find the jumbo size soon… !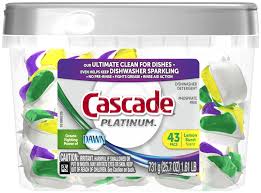 Overall, Cascade Platinum works wonders on our dishes and dishwasher… I will not go back to my old brands anytime soon…and sorry Cascade but the platinum is so much better than Cascade complete that I will now only buy the Platinum!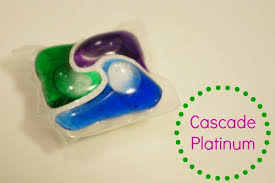 Do not forget to enter the contest that Theresa wrote about and submit your pictures to win some prizes from Cascade!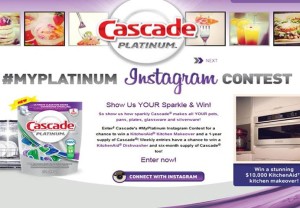 Please make sure to check out the following links for more information on Cascade:
Cascade website: http://bit.ly/16Te3N5
• Cascade Facebook page: http://on.fb.me/10Y8RQQ
• #MyPlatinumInstagram contest: http://tinyurl.com/PlatBlog.
Share and Enjoy