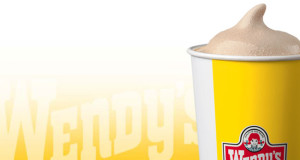 If you remember from past summers, Wendy is once again donating fifty cents from every Frosty purchase to the Dave Thomas Foundation for Adoption on Father's Day weekend (June 15 & 16). These donations will be used to benefit the cause of Wendy's Wonderful Kids, a wonderful program that helps foster children in need find great homes.
Frosties are a special treat around our house that everyone loves. Some of my children's favorite memories are of summer visits to Wendy's to purchase a Frosty as a treat after a long day of gardening or on a family road trip. We love the the creamy taste and of course, the affordable price.
I love that Wendy's is doing this for kids and need, even more so on Father's Day. I'm glad to see that they are doing this great program again. There are several ways to help donate, and I hope you'll take your family to Wendy's this Father's Day weekend to help support this great program.
How do you donate? There are several ways:
1. Facebook & Twitter – Use the hashtag #FirstFrosty and share your first Frosty memories. For each story, image or video, Wendy's will donate $1, up to $50,000.

2. Go to Wendy's – For each Frosty purchased on June 15-16, Wendy's will donate 50 cents to Dave Thomas Foundation for Adoption . Any Frosty purchase counts! Even their newest product, the Frosty Waffle Cone!
Enter to win two ten dollar Wendy's gift cards below:
Share and Enjoy