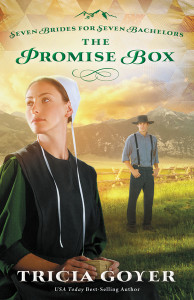 Faith and Family Reviews received the following product in exchange for writing a review. While we consider it a privilege to receive free products to review, our reviews are our honest opinion and thoughts of the product.
I have to say I was pleasantly surprised with The Promise Box by Tricia Goyer. I guess I went into it thinking I know what to expect, after all I'd read other books by Tricia Goyer. While The Promise Box is an Amish romance, it was much more than that. It is the journey of a hurting young woman and young man, whose lives cross and finally blend as they discover strength, healing, a deeper faith and commitment in a community of supportive family and friends.
Not to sound like a broken record, but I truly love the community and faith of Amish believers (or Christians). They have something the world is missing and I believe that is why the rest of us are drawn to and fascinated by them. It is one of the reasons the Amish are so popular among us Englischers.
Here are a few points from the book that I particularly enjoyed:
Page 185, when Gideon said:
I heard it said once you cannot train a horse with shouts and expect it to obey a whisper.
I couldn't help but think of that in relation to child training.
Page 186, when Gideon spoke:
It's not about pride, Lydia – it's about stewardship. We're supposed to take care of what God puts into our possession. Going forth and subduing the earth isn't about forcing yourself. It's tending to.
This made me think of our little farm and all that God has blessed us with….it's an ongoing work to tend to and care for all of it, plus our family.
Finally, page 200 and the "Be" phrases":
Be REVERENT in spirit low
Be GENEROUS, give all you can, then give a little more;
Be THOUGHTFUL of the people who are lonely, old, or sad;
Be READY quickly to respond to special appeals;
Be UNSELFISH – all self-seeking with abandon cast aside;
Be HOPEFUL for the best of life, for hope has wondrous worth;
Be APPRECIATIVE for great riches of Christ and His love,
As Lydia indicated in the book, these are easier to memorize than to live.
Hope you can take something from these little excerpts too. I am looking forward to the third book in the Seven Brides for Seven Bachelors series. The Promise Box receives two thumbs up from me!

Share and Enjoy