Faith and Family Reviews received the following product in exchange for writing a review. While we consider it a privilege to receive products to review, our reviews are our honest opinion and thoughts of the product.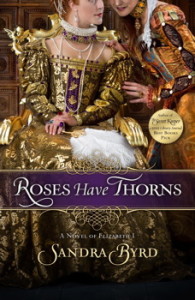 Yes, I found some time in the April rains to get a few more books read for review features. This book, Roses Have Thorns, written by Sandra Byrd is a new book about Queen Elizabeth I. Sandra Byrd is also a new author to me. I actually enjoyed both story and author.
This novel was more than a historical romance, it was a story of the life of the lady of the Queen and her relationship to the Monarch. Lady Helena served Queen Elizabeth I through her single, married, widowed, remarried life, life with and without children.
The life of a lady of the queen was a privileged one, yet it was extremely demanding as well. Trust, devotion and true love for Monarch lead to the path of success for those who chose it. However, for those who didn't…..they quickly discovered the consequences.
Roses Have Thorns was and is an intriguing story set in 1565 about the loving devotion between a queen and her lady. I loved seeing the story play out through threats on Queen Elizabeth I's life, acts of treason and plots by Mary Queen of Scots; detailing the sacrifices each one made on behalf of England and her Queen.
This book kept me captivated as I lived through Lady Helena and felt her love and pain. It was extremely interesting to live the life of a lady through her eyes. I give the book two thumbs up because I'll probably read it again. I'd also like to read the other books in the Tudor series, all written by Sandra Byrd.
To order Roses Have Thorns visit http://amzn.to/XHX5LJ

Share and Enjoy