Continuing with the Eggy apps, here is Tap the Cat – Reading Eggs Review.  Available for iPad (ISO 4.0 or later)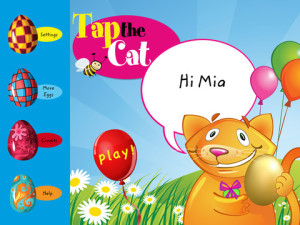 When you begin and tap the play button the balloons pops.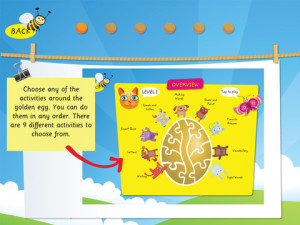 Then you are brought to this screen,to choose which of the 9 activities you'd like to do.  There's writing, letters, smart quiz, speak and listen, making words, draw and paint, time to rhyme, vocabulary, and sight words.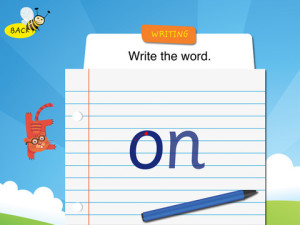 Writing – A piece of lined paper and a word are on the page, your child will then trace the word and asked if they like their writing.
Letters – You find the matching letter (only 4 are given at a time).  They tell you the letter as well as the sound that letter makes.  Great for beginners!
Smart Quiz – listen to the question and find the matching picture.  Example "Carrot begins with c.  Which on begins like carrot" the pictures would be a lion, rabbit and cat.  Once you choose cat you get a little tune.  The questions do change to keep you child involved.  The next example question is Ï look like a mouse, but I am bigger.  Who am I?" The pictures are a chicken, rat and frog.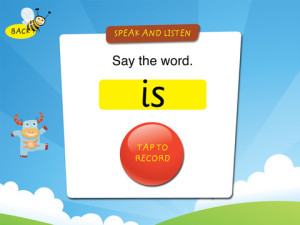 Speak & Listen – This is a recording one.  Your given a written word and asked to tap to record yourself saying the word.  Then you can play it back and are asked if you said the correct word.
Making Words – A picture of a word is shown (Example – Pan), the app will then sound out the word Pan and you are given blank tiles to fill in the word out of 4 letters.
Draw and Paint – Is just that, you pick a picture and color it.
Time to Rhyme – A figure of a house is given with this phrase "On the house I see a _____", above the house are 3 pictures a mouse, hat, and ear of corn.  Then you move the mouse to the house and get a congratulations.
Vocabulary – Tap the word to hear it and then match it to the picture.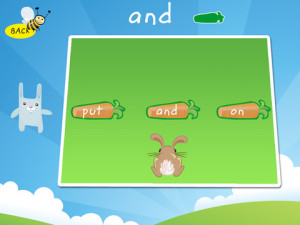 Sight Word – Help the bunny get home.  In this repetition app, the bunny jumps on about 6 carrots all the same word to get home.  Another great one for the beginners.
I really like this series of apps, lots of learning and not realizing it.  There's one more!  Look for my last Eggy app – Spelling!
Share and Enjoy