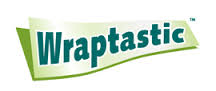 Faith and Family Reviews received the following product in exchange for writing a review. While we consider it a privilege to receive free products to review, our reviews are our honest opinion and thoughts of the product.
Wraptastic food wrap dispenser is revolutionary. It can hold and cut wax paper, plastic wrap, aluminum foil, and more. Any kind of wrap pops easily in or out and smoothly cuts the necessary size of wrap for the job. Besides being extremely convenient for every user, Wraptastic is safe and durable. The compact design stores easily. Concealed blade safely and easily cuts. Holds up to 200 ft roll. Includes three reusable labels. Acrylic. Dishwasher safe.
See it in action!
Our Review:
This is an interesting product. When I received the product I thought well… isn't this neat! I must say that the dispenser is very easy to use. Just pop in the spring loaded end caps into the roll and then load the roll into the dispenser and you are done. Simple! As for cutting … the Wraptastic lives up to its claims of nice even cutting. My foil was cut perfect each time I used it…no uneven edges. One could ask… why do you need this when you can simply rip it out of the box. I guess that could be done… but the Wraptastic neatly stores your wrap and neatly cuts your wrap and foil. Such a nice way to cut and store your foil and wrap why use the ugly old box!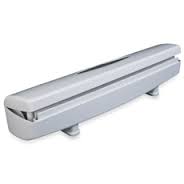 I have heard some reviewers say that the spring loaded end caps do not fit all rolls… well let me tell you a little secret… they do! I had a smaller inner roll on my aluminum foil and if you just squeeze the spring added end cap where you insert it into the tube it will easily load into the roll tube. It did take some squeezing but it went in just fine!
The only thing I was thinking of while I was using the product is how nice it would be if it automatically advanced the wrap/foil then cut…I know l am lazy right? But wouldn't that be neat?
*** Just a reminder *** The interior blade is super sharp, although concealed and harmless to the average user…but there is not a locking closure on the product so I would suggest keeping this out of the reach of small curious children who might grab the product and investigate!
As for storage …my storage situation is tight (no room for bulky items). I found that the Wraptastic stacked well on top of each other (I have 2) just as I would store my regular boxes. I like that they have the ability to stack. The stickers provided for the products telling what they are (aluminum foil, plastic wrap, or waxed paper) a nice addendum…although they really are not stickers but cling on decals…so they are easily removable. But in my case they are too removable so I had to place some tape on them to get them to adhere properly without sliding off.
This is a very simple idea that really comes in handy! What a great invention!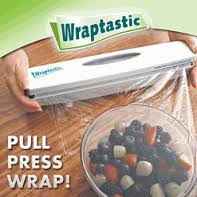 The product retails at $10.99 and the website offers buy one get one for $10.99…so you get two for the price of one…what a deal.
To find more out about this product or to purchase please visit www.buywraptastic.com
Share and Enjoy