Faith and Family Reviews received the following product in exchange for writing a review. While we consider it a privilege to receive free products to review, our reviews are our honest opinion and thoughts of the product.
Pouch food for babies and toddlers is the new preferred feeding method for many families, mine included.  Feeding by pouch is not only convenient, but it promotes self-feeding, which is a great lesson for babies!  One of the downfalls of most pouches, though, is the feeding part is made of hard plastic with many ridges.  This can be very cumbersome for babies.  Not anymore with the PouchPop.
The PouchPop topper is the convenient, soothing, and safe solution for pouch feeding.  Made out of soothing hospital grade silicone, it easily twists onto any baby food pouch.  I tried it out on some GO GO applesauce, and it twisted on easily and was just as easy to take off.  I had my toddler try the pouch without the PouchPop and then with the PouchPop.  Once I twisted the Pouchpop on, he did not want me to remove it.  He said it was easier to drink from and that the applesauce came out faster.  He also said it felt "cool" in his mouth.  I liked how smooth the PouchPop was.  It covers all of the ridges and "ouch points" on pouches, so I never have to worry about him hurting the inside of his mouth.  This is definitely a safer option for babies.  Best of all, it is dishwasher safe!
I love that PouchPop toppers are sold in a package of four and are reusable.  I can keep a couple at home and a couple in my diaper bag for whenever I need them.  They are also pediatrician recommended.  These would be a great gift and are available at Amazon.com.  For a 25% discount enter Topper13 (case sensitive) during checkout.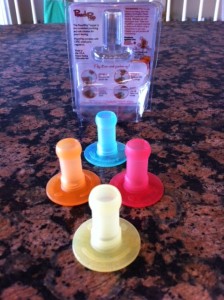 For more information visit their website:
Be sure to "Like" PouchPop on Facebook and follow PouchPop on Twitter.
Share and Enjoy